THE MAKE-UP OF A GOOD DRIVER.
19th December 1918
Page 15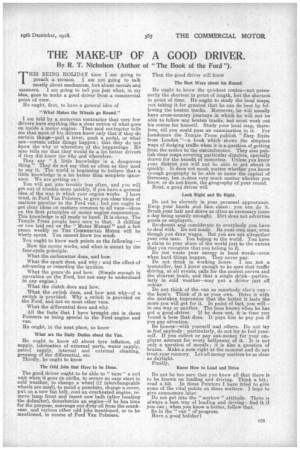 Page 15, 19th December 1918 —
THE MAKE-UP OF A GOOD DRIVER.
Close
By. R. T. Nicholson (Author of "The. Book of the Ford ").
THIS BEING HOLIDAY time I am going to preach a sermon. I am not going to talk mostly about mechanism, but about morals and manners. I am going to tell you just what, in my idea, goes to make a good driver from a commercial point of view.
He ought, first, to have a general idea of "What Makes the Wheels go Round."
I am told by a motorvan contractor that very few drivers have anything like a clear notion of what goes on inside a motor engine. That said contractor tells me that most of his drivers know only that if they do certain thin—pull a lever, push a pedal, or what not—certain other things happen • that. they do not know the why or wherefore of the happenings. He also tells me that they would be a lot better drivers if they did know the why and wherefore. • They say "A little knowledge is a dangerous thing." They do not say that as often as they used to say it. The world is beginning to believe that a little knowledge is a lot better than complete ignorance. We are getting on You will get into trouble less often, and you will get out of trouble more quickly, if you have a general idea of the way in which your engine works. I have tried, in Ford Van Pointers, to give you clear ideas of matters peculiar to the Ford van ; but you ought to get clear ideas on matters common to all vans—ideas on the first principles of motor engine construction. This knowledge is all ready to hand. It is cheap. The Temple Press people have seen to that. A shilling or two laid out on the "Motor Manual" and a few pence weekly on THE CommEnciat, MOTOR will be wisely spent. You cannot know too much.
You ought to know such points as the following :— How the motor works, and what is meant by the four-cycle principle.
What the carburetter does, and how.
What the spark does, and why ; and the effect-of advancing or retarding the ignition.
What the gears'do and how. (Simple enough in operation on the Ford, but not easy to understand in any engine.) What the clutch does and how.
What the switch does' and how and why—if a switch is provided. Why a switch is provided on the Ford, and not on most other vans. What the differential does and why.
All the facts that I have brought out in these Pointers as being special to the Ford engine and van.
-He ought, in the next place, to know What are the Daily Duties about the Van.
He ought to know all about tyre inflation, oil supply, lubrication of external parts, water supply, petrol supply, internal and external cleaning, greasing of the differential, etc. Thirdly, he ought to know The Odd Jobs that Have to be Done.
The good driver ought to be able to " tune " a coil unit when it goes on strike, to secure an easy start in cold weather, to change a wheel (if interchangeable wheels are uslad), to mend a puncture, change a cover, put on a new fan belt, cool an overheated engine, remove lamp front and insert new bulb (after locating the defaulter), decarbonize an engine—if he has time for the purpose, scavenge out dirty oil from the crankcase, and various other odd jobs mentioned, or to be mentioned, in course of Ford Van Pointers. Then the good driver will know The Best Ways about his Round.
He ought to know the quickest routes—not necessarily the shortest in point of length, but the shortest in point of time. He ought to study the local maps, not taking it for granted that he can do best by following the beaten tracks. Moreover, he will usually have cross-country journeys in which he will not be able to follow any beaten tracks, but must work out his routes for himself. Study your local map, there,. fore, till you could pass an examination in it. For Londoners the Temple Press publish "Easy Exits from London "—a book which shows the simplest ways of dodging traffic when it is a, question of getting from the centre to the eileumference. They also publish clear maps covering particular districts, specially drawn for the benefit of motorists. Unless you know your distriot you will not be able to get about it quickly. It does not much matter whether you know enough geography to be able to name the capital of Germany, but itadoes very much matter whether you know, or do not know, the geography of your round. Next, a good driver will Look Right and Be Right.
Do not be slovenly in your personal appearance. Keep your hands and face clean: you can do it. Brush your hair and shave as often as necessary (once a day being usually enough). Dirt does not advertise goods or employers. l3e44ecent and considerate to everybody you have to deal with. Do not toady. Be your own man, even though you draw wages. But you are not altogether your own man. You belong to the world. You have a claim to your share of the world just to the extent that you recognize that you belong to it Do not waste your energy in hard words--even when hard things happen. They never pay. Do not drink in working hours. I am not a teetotaller' but I know enough to be sure that traffic driving, at all events, calls for the coolest nerves and the clearest brain, and that a single drink—partieularly in cold weather—may put a driver just off colour.
Do not think of the van as somebody else's van— the boss's. Think of it as your own. Drive it with the mistaken impression that the better it lasts the more you will get for it. In point of fact, you will— in one way or another. The boss knows when he has got a good !driver. If he does not, it is time you found a boss that does. It pays him to pay you if you pay attention. Be honest—with yourself and others. Do not try "so fool anybody : particularly, do not try to fool yourself. If you collect or pay out. money for your employer account for every halfpenny of it. It. is not only a question of morals ; it is also a question of brains. Make.a note right at the moment and do not trust.your memory. Let all money matters be as clear as daylight.
Finally, Know How to Load and Drive Do not be too sure that you know all that there is to be known on loading and driving. Think a bit ; read a bit. In these Pointers I have tried to give some of the vital points on these matters. I hope to give someimore later. • Do not get into the " anyhow " attitude. There is always a best way of loading and driving : find it if you can ; when you know a better, follow that. Be in the " van " of-progress. Have a good holiday!