CW Coaches or Britain
19th August 1966
Page 38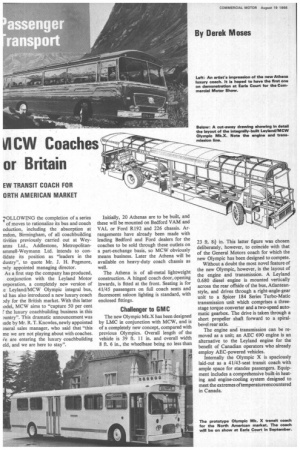 Page 38, 19th August 1966 —
CW Coaches or Britain
Close
EW TRANSIT COACH FOR ORTH AMERICAN MARKET nOLLOWING the completion of a series 4 of moves to rationalize its bus and coach oduction, including the absorption at mdon, Birmingham, of all coachbuilding tivities previously carried out at Weyarms Ltd., Addlestone, Metropolitananunell-Weymann Ltd. intends to conrlidate its position as "leaders in the dustry", to quote Mr. J. H. Pogmore, ;wly appointed managing director.
As a first step the company has produced, conjunction with the Leyland Motor orporation, a completely new version of .e Leyland/MCW Olympic integral bus, Id has also introduced a new luxury coach xly for the British market. With this latter iodel, MCW aims to "capture 50 per cent F the luxury coachbuilding business in this 3untry". This dramatic announcement was tade by Mr. R. T. Knowles, newly appointed meral sales manager, who said that "this me we are not playing about with coaches. le are entering the luxury coachbuilding eld, and we are here to stay". Initially, 20 Athenas are to be built, and these will be mounted on Bedford YAM and VAL or Ford R192 and 226 chassis. Arrangements have already been made with leading Bedford and Ford dealers for the coaches to be sold through these outlets on a part-exchange basis, so MCW obviously means business. Later the Athena will be available on heavy-duty coach chassis as well.
The Athena is of all-metal lightweight construction. A hinged coach door, opening inwards, is fitted at the front. Seating is for 41/45 passengers on full coach seats and fluorescent saloon lighting is standard, with enclosed fittings.
Challenger to GMC The new Olympic Mk.X has been designed by LMC in conjunction with MCW, and is of a completely new concept, compared with previous Olympics. Overall length of the vehicle is 39 ft. 11 in. and overall width 8 ft. 6 in., the wheelbase being no less than 23 ft. 81 in. This latter figure was chosen deliberately, however, to coincide with that of the General Motors coach for which the new Olympic has been designed to compete.
Without a doubt the most novel feature of the new Olympic, however, is the layout of the engine and transmission. A Leyland 0.680 diesel engine is mounted vertically across the rear offside of the bus, Atlanteanstyle, and drives through a right-angle-gear unit to a Spicer 184 Series Turbo-Matic transmission unit which comprises a threestage torque converter and a two-speed automatic gearbox. The drive is taken through a short propeller shaft forward to a spiral bevel rear axle. _ The engine and transmission can be removed as a unit; an AEC 690 engine is an alternative to the Leyland engine for the benefit of Canadian operators who already employ AEC-powered vehicles.
Internally the Olympic X is spaciously laid-out as a 41/43-seat transit coach with ample space for standee passengers. Equipment includes a comprehensive built-in heating and engine-cooling system designed to meet the extremes of temperatureencountered in Canada.