EXPERIMENTAL SERVICE IN COVENTRY
19th August 1938
Page 52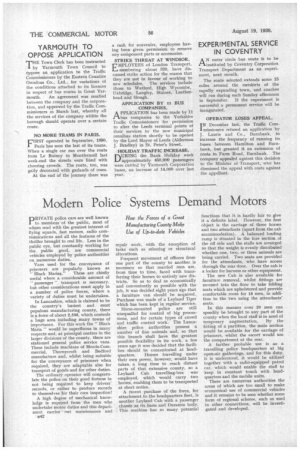 Page 52, 19th August 1938 —
EXPERIMENTAL SERVICE IN COVENTRY
Close
AN outer circle bus route is to be instituted by Coventry Corporation Transport Department as an experiment, next month.
The route selected extends some 15 miles around the outskirts of the rapidly expanding town, and coaches will run during each Sunday afternoon in September. If the experiment is successful a permanent service will be inaugurated.
OPERATOR LOSES APPEAL.
TN December last, the Traffic CornI missioners refused an application by J. Laurie and Co., Burnbank, to increase the frequency of running its buses between Hamilton and Burnbank, but granted it an extension of route to Farm Road, Burnbank. The company appealed against this decision to the Minister of Transport, who has dismissed the appeal with costs against the appellant.