LANCASHIRE REVERTING TO TRAMS
19th August 1938
Page 51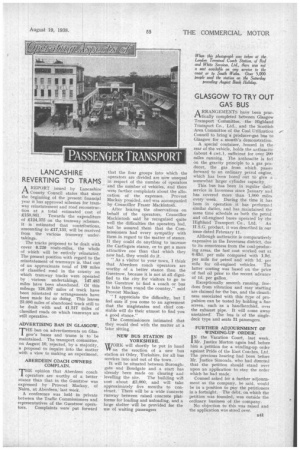 Page 51, 19th August 1938 —
LANCASHIRE REVERTING TO TRAMS
Close
AREPORT issued by Lancashire County Council states that since the beginning of the present financial year it has approved schemes for tramway reinstatement and road reconstruction at a total estimated cost of 4150,861. Towards the expenditure of 2124,375 on the tramway schemes. it is estimated that contributions, amounting to £17.133, will be received from the various tramway undertakings.
The tracks proposed to be dealt with cover 8.226 route-miles, the whole of which will be entirely reinstated. The present position with regard to the reinstatement of tramways is, that out of an approximate total of 189 miles of classified road in the county on which tramway tracks were operated by various undertakings, 147.483 miles have been abandoned, Of this mileage 124.397 miles of track have been reinstated or arrangements have been made for so doing. This leaves 23.086 miles of abandoned track still to be dealt with and 41.517 miles of classified roads on which tramways are still operative.
ADVERTISING BAN IN GLASGOW.
THE ban on advertisements on Glasgow's buses and trams is to be maintained. The transport committee, on August 10, rejected, by a majority, a proposal to inquire into the matter with a view to making an experiment.
ABERDEEN COACH OWNERS COMPLAIN.
THE opinion that Aberdeen coach operators are worthy of a better stance than that in the Guestrow was expressed by Provost Mackay, of Nairn, at Aberdeen, last week.
A conference was held in private between the Traffic Commissioners and representatives of the Guestrow, opera
tors. Complaints were put forward that the four groups into which the operators are divided are now unequal in respect of the number of operators and the number of vehicles, and there were further complaints about the allocation of the expenses. Provost Mackay presided, and was accompanied by Councillor Fraser Mackintosh.
After hearing the observations on behalf of the operators, Councillor Mackintosh said he recognized quite well the difficulties the operators had, but he assured them that the Commissioners had every sympathy with them in regard to the matter of stance. If they could do anything to increase the Castlegate stance, or to get a more attractive one than that which they now had, they would do it. .
"As a visitor to your town. I think that Aberdeen coach operators are worthy of a better stance than the Guestrow, because it is not at all dignified to the city for visitors to go to the Guestrow to find a coach or bus to take them round the country," said Provost Mackay.
" I appreciate the difficulty, but I feel sure if you come to an agreement that the magistrates and chief constable will do their utmost to find you a good stance."
The Commissioners intimated that they would deal with the matter at a later sitting.
NEW BUS STATION IN YORKSHIRE.
WORK will shortly be put in hand YY on the erection of a new bus station at Otley, Yorkshire, for all bus services into and out of the town, It will be situated between Boroughgate and Bondgate and a start has already been made on clearing and levelling the site. The building will cost about £3,000, and will take approximatelyfive months to construct. There will be a wide Concrete runway between raised concrete platforms for loading and unloading, and a large shelter will be provided for the use of waiting passengers