GLASGOW TO TRY OUT GAS BUS
19th August 1938
Page 51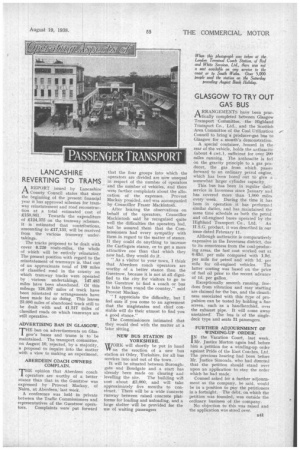 Page 51, 19th August 1938 —
GLASGOW TO TRY OUT GAS BUS
Close
A RRANGENIENTS have been prac/-1 tically completed between Glasgow Transport Committee, the Highland Transport Co., Ltd., and the Scottish Area Committee of the Coal Utilization Council to bring a producer-gas bue to Glasgow for a month's demonstration.
A special container, housed in the rear of the vehicle, holds the anthracite (about 4 cwt.), sufficient for over 200 miles running. The anthracite is fed on the gravity principle to a gas producer, the gas from which passes forward to an ordinary petrol engine, which has been bored out to give a somewhat larger cylinder capacity.
This bus has been in regular daily service in Inverness since January and has covered more than 1,000 miles every week. During the time it has been in operation it has performed similar duties, and has maintained the same time schedule as both the petrol and oil-enginecl bases operated by the Highland Transport Co., Ltd. An II.S.G. product, it was described in our issue dated February 11.
Although anthracite is comparatively expensive in the Inverness district, due to its remoteness from the coal-producing areas, the fuel cost worked out at 0.65d. per mile compared with 1.9d. per mile for petrol and with id. per mile for oil-engined vehicles. The latter costing was based on the price of fuel oil prior to the recent advance of ld. per gallon.
Exceptionally smooth running, freedom from vibration and easy starting are claimed for the bus, and the cleanliness associated with this type of propulsion can be tested by holding a fine screen, such as a handkerchief, over the exhaust pipe. It will come away unstained. The bus is of the single. deck type and seats 31 passengers.
FURTHER ADJOURNMENT OF WINDING-UP ORDER.
IN the Vacation Court, last week, 1 Mr. Justice Morton again had before him a petition for a winding-up order against Pride of the East Coaches, Ltd. The previous hearing had been before Mr. Justice Simonds, who had directed that the petition should stand over upon an application to stay the order which he had made.
Counsel asked for a further adjournment as the company, he said, would be in a position to pay the petitioners in a fortnight. The debt, on which the petition was founded, was outside the ordinary business of the -company.