Thornycroft's Latest Searchlight Lorries
19th August 1938
Page 44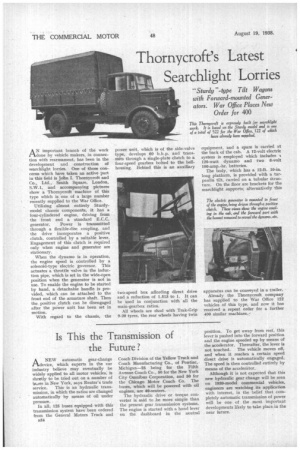 Page 44, 19th August 1938 —
Thornycroft's Latest Searchlight Lorries
Close
Sturdy " -type Tilt Wagons with Forward-mounted Generators. War Office Places New Order for 400 AN important branch of the work done by vehicle makers, in connection with rearmament, has been in the development and construction of searchlight lorries. One of those concerns which have taken an active part in this held is John I. Thornycroft and Co., Ltd., Smith Square. London, S.W.1, and accompanying pictures show a Thornycroft machine of this type which is one of a large number recently supplied to the War Office.
Utilizing almost entirely Sturdymodel chassis components, it has a four-cylindered engine, driving from the front end a standard E.C.C. generator. Power is transmitted through a flexible-disc coupling, and the drive incorporates a positive clutch, controlled by a suitable lever_ Engagement of this clutch is required only when engine and generator are stationary.
When the dynamo is in operation, the engine speed is controlled by a solenoid-type electric governor. This actuates a throttle valve in the induction pipe, which is set in the wide-open position when the generator is not in use. To enable the engine to be staz-ted by hand, a detachable handle is provided, which can be attached to the front end of the armature shaft. Then the positive clutch can be disengaged after the power unit has been set in motion.
With regard to the chassis, the power unit, which is of the side-valve type, develops 60 b.h.p. and transmits through a single-plate clutch to a four-speed gearbox bolted to the bellhousing. Behind this is an auxiliary two-speed box affording direct drive and a reduction of 1.513 to 1. It can be used in conjunction with all the main-gearbox ratios.
All wheels are shod with Trek-Grip 9-20 tyres, the rear wheels having twin equipment, and a spare is carried at the back of the cab. A 12-volt electric system is employed which includes a 120-waft dynamo and two 6-volt 100-amp.-hr. batteries.
The body, which has a 12-ft. 10-in. long platform, is provided with a tarpaulin tilt, carried on a tubular Structure. On the floor are brackets for the searchlight supports: alternatively this apparatus can be conveyed in a trailer.
Already the Thornycroft company has supplied to the War Office 122 vehicles of this type, and now it has received a repeat order for a further 400 similar machines..!.