Road Transport Means Safety for "Skiffs"
19th August 1938
Page 42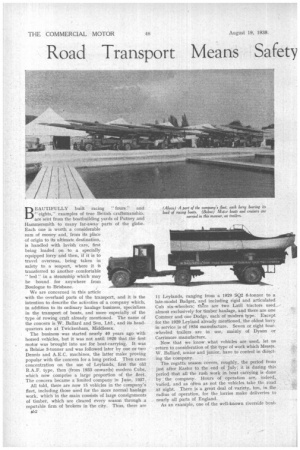 Page 43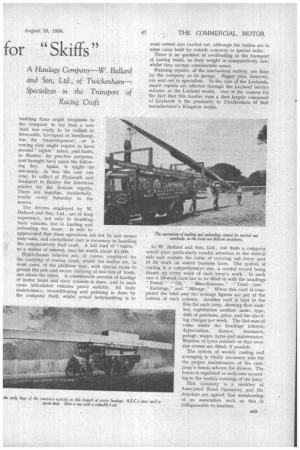 Page 42, 19th August 1938 —
Road Transport Means Safety for "Skiffs"
Close
A Haulage Company—W. Ballard and Son, Ltd., of Twickenham— Specializes in the Transport of Racing Craft BEAUTIFULLY built racing " fours " and " eights," examples of true British craftsmanship. are sent from the boatbuilding yards of Putney and Hammersmith to many far-away parts of the globe. Each one is worth a considerable sum of money and, from its place of origin to its ultimate destination, is handled with lavish care, first being loaded on to a specially equipped lorry and then, if it is to travel overseas, being taken in safety to a seaport, where it is transferred to another comfortable " bed " in a steamship which may be bound for anywhere from Boulogne to Brisbane. i We are concerned in this article
with the overland parts of the transport, and it is the intention to describe the activities of a company which, in addition to its ordinary haulage business, specializes in the transport of boats, and more especially of the type of rowing craft already mentioned. The name of the concern is W. Ballard and Son, La., and its headquarters are at Twickenham, Middlesex.
The business was started nearly 40 years ago with horsed vehicles, but it was not until 1920 that the first motor was brought into use for boat-carrying. It was a Belsize 3-tonner and was followed later by one or two Dennis and A.E.C. machines, the latter make proving popular with the concern for a long period. Then came concentration on the use of Leylands, first the old R.A.F. type, then (from 1933 onwards) modern Cubs, which now comprise a large proportion of the fleet. The concern became a limited company in June, 1937.
All told, there are now 15 vehicles in the company's fleet, including those used for the more normal haulage work, which in the main consists of large consignments of timber, which are cleared every season through a reputable firm of broleis in the city. Thus, there are 8:7.2 11 Leylands, ranging from a 1929 SQ2 6-tonner to a late-model Badger, and including rigid and articulated Cub six-wheelers; the're are two Latil tractors used almost exclusively for timber haulage, and there are one Commer and one Dodge, each of modern type. Except for the 1929 Leyland already mentioned, the oldest lorry in service is of 1934 manufacture. Seven or eight fourwheeled trailers are in use, mainly of Dyson or Carrimore manufacture.
Now that we know what vehicles are used, let us return to consideration of the type of work which Messrs. W. Ballard, senior and junior, have to control in directing the company. The regatta season covers, roughly, the period from just after Easter to the end of July; it is during this period that all the rush work in boat carrying is done by the company. Hours of operation are, indeed, varied, and as often as not the vehicles take the road at night. There is a great deal of variety, too, in the radius of operation, for the lorries make deliveries to nearly all parts of England. As an example, one of the well-known riverside boat building firms might telephone to the company to say that a new boat was ready to be rushed to Newcastle, Liverpool or Southampton for trans-shipment; or a rowing club might require to have several "eights " taken, post haste, to Marlow, for practice purposes, and brought back again the following day. Again, it might be necessary, is was the case one year, to collect at Plymouth and transport to Henley the American entries for the famous regatta. There are regattas, incidentally, nearly every Saturday in the season.
The drivers employed by W. Ballard and Son, Ltd., are of long experience, not only in handling their vehicles, but in loading and unloading the boats. It will be appreciated that these operations are not by any means easy ones, and exceptional care is necessary in handling the comparatively frail craft. A full load of " eights," as a matter of interest, may be worth about £1,000.
Rigid-chassis vehicles are, of course, employed for the carrying of rowing boats, whilst the bodies are, in most cases, of the platform type, with special racks to permit the safe and secure carrying of two lots of boats, one above the other, A considerable amount of haulage of motor boats and river cruisers is done, and in such cases articulated vehicles prove suitable. AU body maintenance, reconditioning and painting is done by the company itself, whilst actual bodybuilding is to
some extent also carried out, although the bodies are in some cases built by outside concerns to special order.
There is no question of overloading in the transport of rowing boats, as their weight is comparatively low, whilst they occupy considerable space.
Running repairs, of the mechanical variety, are done by the company at. its garage. Bigger jobs, however, are sent out to specialists. In the case of the Leylands, major repairs are effected through the Leyland service scheme, at the Leyland works. One of the reasons for the fact that this haulier runs a fleet largely composed of Leylands is the proximity to Twickenham of that manufacturer's Kingston works.
In W. Ballard and Son, Ltd., one finds a company which pays particularly careful attention to the clerical side and realizes the value of carrying out every part of its work on sound business lines. The system of costing is a comprehensive one, a careful record being drawn up every week of each lorry's work, In each case a 13-week card has to be filled in with the headings " Petrol," "Oil," " Miscellaneous," " Total cost," " Earnings," and "Mileage." When this card is completed the total and the average figures are put at the bottom of each column. Another card is kept in the files for each lorry, showing fleet num ber, registration nuntber, make, type, date of purchase, price, and the stal.-d ing charges per week. The last-nart ?.d come under the' headings interest, depreciation, licence, insurance, garage, wages, tyres and maintenance.
Mention of tyres reminds us that over size covers are fitted, if possible.
The system of weekly costing and averaging is vitally necessary also for the proper maintenance of the company's bonus scheme for drivers. The bonus is regulated in each case according to -the weekly earnings of the lorry.
This company is a member of Associated Road Operators, and the directors are agreed that membership of , an association such as this is in'clispensable to hauliers.