Full Marks for Philips Coach Radio 'THUNDERY weather conditions are
19th August 1938
Page 39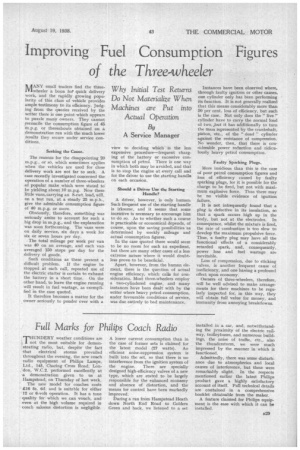 Page 39, 19th August 1938 —
Full Marks for Philips Coach Radio 'THUNDERY weather conditions are
Close
I not the most suitable for demonstrating radio, but, despite the fact that electrical storms prevailed throughout the evening, the new coach radio equipment of Philips Lamps, .Ltd., 145, Charing Cross Road, London, W.C.2. performed excellently at a demonstration given to us at Hampstead, on Thursday of last week.
The new model for coaches costs £16 5s. 6d. and is suitable for either 12 or 6-volt operation. It has a tone quality for which we can vouch, and even at the high volume required in coach saloons distortion is negligible. A lower current consumption than in the case of former sets is claimed for the latest model (27 watts). An efficient noise-suppression system is built into the set, so that there is no interference from the ignition system of the engine. There are specially designed high-efficiency valves of a new type, which are stated to be largely responsible for the enhanced economy and absence of distortion, and the means for control have been markedly improved.
During a run from Hampstead Heath down North End Road to Golders Green and back, we listened to a set installed in a car, and, notwithstanding the proximity of the electric railway, trolleybuses, and numerous buildings, the noise of traffic, etc., also the thunderstorm, we were much impressed by the manner in which it functioned.
Admittedly, there was some disturbance due to atmospherics and local causes of interference, but these were remarkably slight. In the respects mentioned earlier the latest Philips product gave a highly satisfactory account of itself. Full technical details are contained in a comprehensive booklet obtainable from the maker.
A feature claimed for Philips equipment is the ease with which it can be installed.