Well-equipped New Dyson Cable Trailer
19th August 1938
Page 33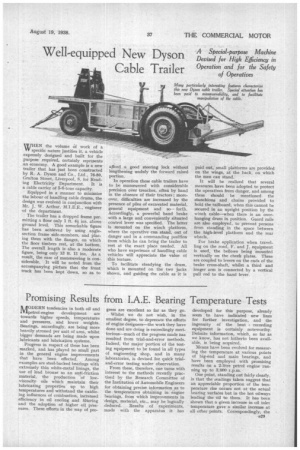 Page 33, 19th August 1938 —
Well-equipped New Dyson Cable Trailer
Close
A Special-purpose Machine Devised for High Efficiency in Operation and for the Safety of Operatives
[WHEN the volume Of work of a VI' specific nature justifies it. a vehicle expressly designed and built for the purpose required, certainly represents an economy. A good example is a new trailer that has just been constructed by R; A. Dyson and Co., Ltd., 76-80, Grafton Street, Liverpool, 8, for Reading Electricity Department. It is a cable carrier of 5-6-tons capacity. Equipped in a manner to minimize the labour of handling cable drums, the design was evolved in conjunction with Mr. j. W. Arthur, M.I.E.E., engineer of the department.
The trailer has a dropped frame permitting a floor only 1 ft. 41 ins, above ground level. This remarkable figure has been achieved by using anglesection frame side-members, and placing them with the flanges, on which the floor timbers rest, at the bottom. The overall length is also a moderate figure, being only 13 ft. 11 iris. As a result, the ease of manceuvring is considerable. It will be noted from the accompanying picture that the front track has been kept down, so as to
afford a good steering lock without lengthening unduly the forward raised portion.
In operation these cable trailers have to be manceuvred with considerable precision over trenches, often by hand in the absence of their tractors; moreover, difficulties are increased by the presence of piles of excavated material. general equipment and so forth. Accordingly, a powerful hand brake with a large and conveniently situated control lever was specified. The latter is mounted on the winch platform, where the operative can stand, out of danger and in a commanding position from which he can bring the trailer to rest at the exact place needed. All who have experience of handling cable vehicles will appreciate the value of this feature.
To facilitate steadying the drum, which is mounted on the two jacks shown, and guiding the cable as it is
paid out, small platforms are provided on the wings, at the back, on which the men can stand.
It will be realized that several measures have been adopted to protect the operatives from danger, and among these should be mentioned the stanchions and chains provided to hold the tailboard, when this cannot be secured in an upright position by the winch cable—when there is an overhanging drum in position. Guard rails are also employed, to prevent persons from standing in the space between the high-level platform and the rear wheels.
For brake application when travelling on the road. F. and J. equipment is used, the bellows being mounted vertically on the cheek plates. These are coupled to levers on the ends of the brake cross-shaft, whilst a third and longer arm is connected by a vertical pull rod to the hand lever.