Passing Comments
19th August 1938
Page 26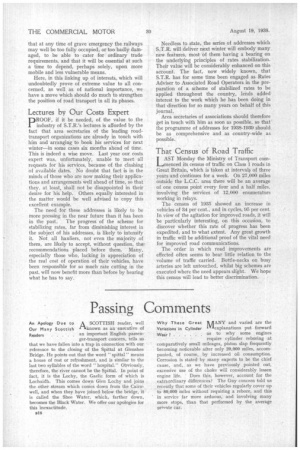 Page 27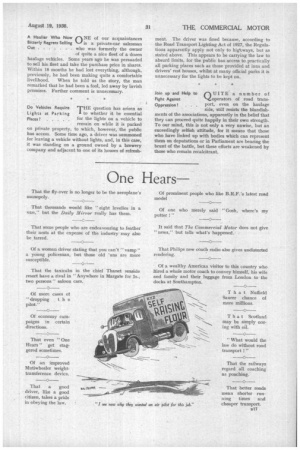 Page 26, 19th August 1938 —
Passing Comments
Close
An Apology Due to A SCOTTISH reader, well Our Many Scottish r-Lknown as an executive of Readers an important English passen
ger-transport concern, tells us that we have fallen into a trap in connection with our reference to the closing of the Spittal at Glenshee Bridge. He points out that the word " spittal " means a house of rest or refreshment, and is similar to the last two syllables of the word "hospital." Obviously, therefore, the river cannot be the Spittal. In point of fact, it is the Lochy, the Gaelic form of which is Lochaidh. This comes down Glen Lochy and joins the other stream which comes down from the Cairnwell, and when they have joined below the bridge, it is called the Slice Water, which, farther down, becomes the Black Water. We offer our apologies for this inexactitude,
B18
Why These Great lk/FANY and varied are the Variations in Cylinder Iviexplanations put forward Wear / as to why some engines require cylinder reboring at comparatively small mileages, piston slap frequently becoming noticeable after only 20,000 miles, accompanied, of course, by increased oil consumption. Corrosion is stated by many experts to be the chief cause, and, as we have previously pointed out, excessive use of the choke will considerably lessen engine life. Does this, however, account for the extraordinary differences? The Guy concern told us recently that some of their vehicles regularly cover up to 80,000 miles without requiring a rebore, and this in service far more arduous, and involving many more stops, than that performed by the. average Ovate car. A Haulier Who Now I-1 NE of our acquaintances
Bitterly Regrets Selling is a private-car salesman Out who was formerly the owner of quite a nice fleet of a dozen haulage vehicles. Some years ago he was persuaded to sell his fleet and take the purchase price in shares. Within 18 months he had lost everything, although, previously, he had been making quite a comfortable livelihood. When he told us the story, the man remarked that he had been a fool, led away by lavish promises. Further comment is unnecessary.
THE question has arisen as to whether it be essential for the lights on a vehicle to remain on while it is parked on private property, to which, however, the public has access. Some time ago, a driver was summoned for leaving a vehicle without lights, and, in this case, it was standing on a ground owned by a brewery company and adjacent to one of its houses of refresh
Do Vehicles Require Lights at Parking Places ? ment. The driver was fined because, according to the Road Transport Lighting Act of 1927, the Regulations apparently apply not only to hie:ways, but as stated above. This appears to be carrying the law to absurd limits, for the public has access to practically all parking places such as those provided at inns and drivers' rest houses, whilst at many official parks it is unnecessary for the lights to be kept on.
Join up and Help to CI 'HITE a number of Fight Against 'Z operators of road trans Oppression ! • . port, even on the haulage side, still resists the blandishments of the associations, apparently in the belief that they can proceed quite happily in their own strength. To our mind, this is not only a very unwise, but an exceedingly selfish attitude, for it means that those who have linked up with bodies which can represent them on deputations or in Parliament are bearing the brunt of the battle, but these efforts are weakened by those who remain recalcitrant.