WILL THE " K " SKID?
19th August 1919
Page 9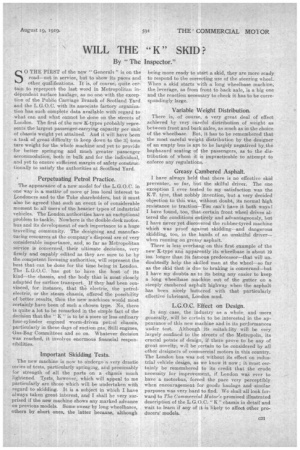 Page 9, 19th August 1919 —
WILL THE " K " SKID?
Close
By "The Inspector."'
SO THE FIRST of the new " Generals" is on the road—not in service, but to show its paces and other qualifications. It is, of course, quite certain to reprepent the last word in Metropolitan independent surface haulage, as no one with the exception of the Public Carriage Branch of Scotland Yard and the L.G.O.C. with its associate factory organization has such complete data available with regard to what can and what cannot be done on the streets of London. The first of the new K-types probably represents the largest passenger-carrying capacity per unit of chassisweight yet attained. And it will have been a task of great difficulty to keep down to the 3?2 tons tare weight for the whole machine and yet to provide for better springing and much greater passenger accommodation, both in bulk and for the individual, and yet to ensure sufficient margin of safety constructionally to satisfy the authorities at Scotrand Yard.
Perpetuating Petrol Practice.
The appearance of a new model for the L.G.O.C. in one way is a. matter of more er less local interest to Londoners and to the Tube shareholders, but it must also be agreed that such an event is of considerable moment to all users of the heavier types of industrial vehicles. The London authorities have an excbptional problem to tackle. Nowhere is the double-deck motorbus and its development of such importance to a huge travelling community. The designing and manufacturing resources at the company's disposal are of very considerable importance, and, so far as Metropolitan service is concerned, their ultimate decisions, very firmly and capably edited as they are sure to be by the competent licensing authorities, will represent the best that can be done for the time being in London. The L.G.O.C. has got to have the bast of its kind—the chassis, and the body that is most closely adapted for surface transport. If they had been convinced, for instance, that the electric, the petrolelectric, or the steam chassis, offered the possibility of better results, then the new machines would most certainly have been of such a chosen type. No, there is quite a lot to be remarked in the simple fact of the decision that the " K" is to be a more or less ordinary four-cylinder engined worm-driven petrol chassis, • particularly in these days of suction gas, Still engines, Gas-Bag Committees and so on. Whatever decision was reached, it involves enormous financial responsibilities.
Important Skidding Tests.
The new machine is now to ndergoa very drastic. series of tests, particularly springing, and presumably for strength of all the parts on a ,chassis much lightened. Tests, however, which will appeal to me particularly are those which will be undertaken with regard to skidding. It is a subject in which I have always taken great interest, and I shall be very surprised if the new machine shows any marked advance on previous models. Some swear by long wheelbases, others by short ones, the latter because, although being more ready to start a. skid, they are more ready to respond to the correcting use of the steering wheel. When a skid starts with a long wheelbase machine, the leverage, as from front to back axle, is a big one and the reaction necessary to check it has to be correspondingly large.
Variable Weight Distribution.
There is, of course, a very great deal of effect achieved by very careful distribution of weight as between front and back axles, as much as in the choice of the wheelbase. But, it has to be remembered that the most careful weight distribution by the designer of an empty bus is apt to be largely negatived by_the haphazard seating of the passengers, as to the distribution of whoth it is impracticable to attempt to enforce any regulations.
Greasy Cambered Asphalt.
I have always held that there is no effective skid preventer, so far, but the skilful driver. The one exception I ever tested to my satisfaction was the K.T. tyre, that nobbly invention, but a very decided objection to this was, without doubt, its normal high resistance to traction—You can't have it both ways I have found, too, that certain front wheel drives altered the conditions entirely and advantageously, but I have never yet discovered the rubber-tyred machine which was proof against skidding—and dangerous skidding, too, in the hands of an unskilful driver— when running on greasy asphalt. • There is less overhang on this first example of the new K-type and apparently its wheelbase is about 19 ins, longer than its famous predecessor—that will un• doubtedly help the skilled man at the wheel—so far as the skid that is due to braking is concerned—but I have my doubts as to its being ally easier to keep a long wheelbase machine out of the gutter on a steeply cambered asphalt highway when the asphalt has been nicely buttered with that particularly effective lubricant, London mud.
L.G.O.C. Effect on Design.
In any, case, the industry as a whole, and users generally, will be certain to be interested in the appearance of this new machine and in its performances under test. Although its suitablity will be very largely confined to the streets of the Metropolis, its crucial points of design, if there prove to be any of great novelty, will be certain to be considered by all other designers of commercial motors in this country. The London bus was not without its effect on industrial vehicle design, as we know it now ; it must certainly be remembered to its credit that the crude necessity for improvement, if London was ever to have a motorbus, forced the pace very perceptibly when encouragement for goods haulage and -similar purposes was very hard to find. We shall all look forward to The Commercial Motor's promised illustrated description of the L.G.O.C. " K" chassis in detail and wait to learn if any of it is likely to affect other producers' models.