One Hears
19th April 1917
Page 3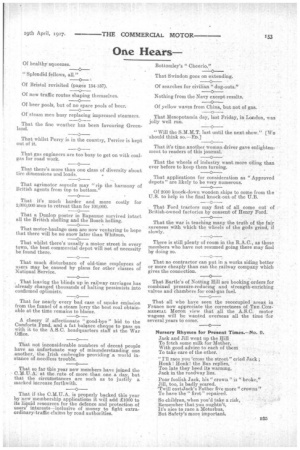 Page 3, 19th April 1917 —
One Hears
Close
Of healthy. squeezes.
"Splendid fellows, all."
Of Bristol revisited (pages 154-157).
Of new traffic routes shaping themselves.
Of beer pools, but of no spare pools of beer.
Of steam men busy replacing impressed steamers.
That the fine weather has been favouring Greenland.
That whilst Perry is in the country, Perrier is kept out of it.
That gas engineers are too busy to get on with coalgas for road work.
• That there's more than one class of diversity about tire dimensions and loads.
That agrimotor segnelce may "rip the harmony of British agents from top to bottom.'
That it's much harder and more costly for 2,000,000 men to retreat than for 100,000.
That a Dunlop poster in Bapaume survived intact all the British shelling and the Bosch belling.
That motor-haulage men are now venturing to hope that there will be no snow later than Whitsun.
That whilst there's usually a motor street in every town, 'the best commercial depot will not of necessity be found there.
That much disturbance of old-time employees of users may be caused by plans for other classes of National service.
, That leaving the blinds up in railway carriages has already changed thousands of halting pessimists into confirmed optimists, That for nearly every bad case of smoke emission from the funnel ef a steam lorry the best coal obtainable at the time remains to blame.
A cheery if affectionate " good-bye " bid to the Comforts Fund, and a fat balance cheque to pass on with it to the A.S.C. headquarters staff at the War Office.
That not inconsiderable numbers of decent people have an unfortunate way of misunderstanding one another, the Irish embroglio providing a world instance of needless trouble.
That so far this year new members have joined the C.M.U.A: at the rate of more than one a day, but that the circumstances are such as to justify a marked increase forthwith.
That if the C.M.U.A. is properly backed this year by new membership applications it will add £1000 to its liquid resources for the defence and protection of users' interests—inclusive of money to fight extraordinary-traffic claims by road authorities. Bottomley's " Cheerio."
That Swindon goes on extending.
Of searches for civilian "dug-outs."
Nothing from the Navy except results.
Of yellow waves from China, but not of gas.
That Mesopotamia day, last Friday, in London, was jolly well run.
"Will the S.M.M.T. last until the next show." [We should think So.—ED.1 That it's time another woman driver gave enlightenment to readers of this journal.
That the wheels of industry want more oiling than ever before to keep them turning.
That applications for consideration as "Approved depots" are likely to be very numerous.
Of 2000 knock-down wooden ships to Come from the U.S. to help in the final knock-out of the IT,B.
That Ford tractors may first of all come out of British-Owned factories by consent of Henry Ford.
That the war. is teaching many the truth of the fair sureness with which the wheels of the gods grind,. if slowly.
There is still plenty of•room in the R.A.C., as those members who have not resumed going there may find loir doing so.
That no contractor can put in a works siding better or more cheaply than can the railway company which gives the connection.
That Bartle's of Notting Hill are booking orders for combined pressure-reducing and strength-enriching valves and chambers for coal-gas fuel.
That all who have seen the reoccupied areas in France now appreciate the correctness of TEE CoaxA:UE.01AL MOTOR view that all the A.S.C. motor wagons will be wanted overseas all the time for several years to come.
Nursery Rhymes for Present Times.—No. 9.
Jack and Jill went up the Hill To fetch some milk for Mother, With good advice to each of them To take care of the other.
" race you 'cross the street" cried Jack ; Honk ! Honk 1 the Bus replies, Too late they heed it warning, Jack in the roadway lies.
Poor foolish Jack, his "crown "is "broke," Jill, too, is badly scared. 'Twill So children, when you'd take a risk, Remember that you oughtn't, It's nice to race a Motorbus, But Safety's more important.