Lamps Alight.
19th April 1917
Page 21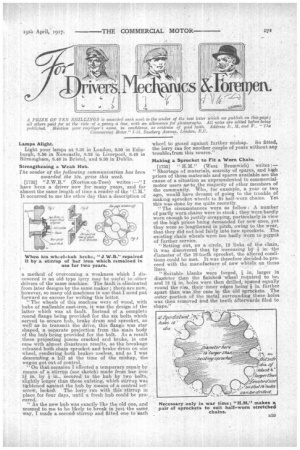 Page 21, 19th April 1917 —
Lamps Alight.
Close
Light your lamps at 8.36 in London, 9.30 in Edinburgh, 8.56 in Newcastle, 8.52 in Liverpool, 8.46 in Birmingham, 8.46 in Bristol, and 9.36 in Dublin.
Strengthening a Weak Hub.
T he sender of the following communication has been awarded the Ws. prize this week.
[1732] " J.W.B." (Norton-on-Tees) writes :--`" I have been a driver now for many yeam, and for almost the same length of time a reader of the It occurred to me the other day that a description of
a method of overcoming a weakness which I discovered in an old type lorry may be useful to other drivers of the 'same machine. The fault is eliminated from later designs by the same maker ; there are now, however, so many old machines in use that I need put forward no excuse for writing this letter.
"The wheels of this machine were of wood, with hubs of malleable east-iron, it was the design of the latter which was at fault. Instead of a complete round flange being provided' for the six bolts which served to secure hub, brake drum and sprocket, as well as to transmit the drive, this flange was star shaped, a separate prejection from the main body of the hub being provided for the bolt. As a result these projecting pieces cracked and broke, in one case with almost disastrous results, as the breakage released both chain sprocket and brake drum on one wheel, rendering both brakes useless, and as I was descending a hill at the time of the mishap, the wagon got out of control.
On that occasion I effected a temporary repair by means of a stirrup (see sketch) made from bar iron 11 in. by in., secured to the hub by two bolts, slightly longer than those existing, which stirrup was tightened against the hub . by means of a central Set
screw, locked'. The lorry ran with this—stirrup in place for four days, until a fresh hob could be procured.
"As the new hub was exactly like the old one, and seemed to. me to be likely to break in just the same, way, I made a second stirrup and fitted one to ach
wheel to guard against further mishap.So fitted, the lorry ran for another couple of years without any troubletfrom this source."
Making a Sprocket to Fit a Worn Chain.
[1733] " RM." (West Bromwich) writes :— " Shortage of materials' scarcity of spares, and high prices of these. materials and spares available are the cause of a situation as unprecedented to commercialmotor users asIto,the majority of other members of the community. Who, for example, a year or two ago, would have dreamt of going to the trouble of making sprocket wheels to fit half-worn chains. Yet this was done by me quite recently.
"The circumstances were as follow : A number of partly worn chains were in stock; they were hardly worn enough to justify scrapping, particularly in view of the high prices being demanded for new ones, yet they were so lengthened in pitch, owing to the wear, that they did not bed fairly into new sprockets. The existing chain wheels were too badly worn to permit of further service.
"Setting out, on a circle, 12 -links of the chain, it was discovered that by increasing by i• in. the diameter of the 12-tooth sprocket, the altered conditions could be met. It was thesefore decided.-to-proceed with the manufacture of, new wheels on these lines.
"Suitable blanks were forged, I in, larger in diairteter than the finiShedi -wheel required to be, and 12 1 in. holes were then drilled., Spaced equally round the rho, their-inner edges being in. further apart than was the case in the Old .sprockets. The outer -portion of the metal surrounding these holes was then removed and the teeth afterwards filed to shape." •