Farmer's Licence Poser : No Precedent
18th November 1955
Page 38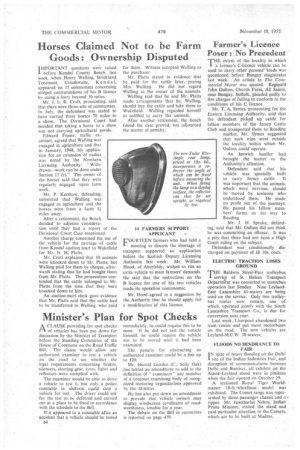 Page 38, 18th November 1955 —
Farmer's Licence Poser : No Precedent
Close
THE extent of the locality in which I a farmer's C-licence vehicle can be used to carry other persons' loads was questioned before Bungay magistrates last week. An article in The Commercial Motor was quoted. Reginald John Oulton, Church Firm, All Saint, near Bungay, Suffolk, pleaded guilty to five charges of failing to conform to the conditions of his C licence.
Mr. T.'A, Symes, prosecuting for the Eastern Licensing Authority, said that the defendant picked up cattle for fellow members of the Jersey Cattle Club and transported them to Reading market. Mr. Syrnes suggested that such trips went outside the locality within which Mr. Oulton could operate.
An Ipswich haulier had brought the matter to the Authority's affention.
Defendant said that his vehicle was specially built to carry Jersey cattle. It was important that the animals, which were nervous, should be moved by someone who understood them. He made no profit out of the journeys. He passed his fellow members' farms on his way to Reading.
Mr. J. H. Sprake, defending, said that Mr. Oulton did not think he was committing an offence. It was a pity that there had not been a High Court ruling on the subject.
Defendant was conditionally discharged on payment of £8 10s. costs.
ELECTRIC TRACTION LOSES GROUND
THE Baldwin Street-Parr trolleybus serviv of St. Helens Transport Department was converted to motorbus operation last Sunday. Nine LeylandEast Lancashire 61-seaters are being used on the service. Only two trolleybus routes now remain, one of which, operated jointly with the South Lancashire Transport Co., is due for conversion next year.
Last week, Liverpool abandoned two tram routes and put more motorbuses on the road. The new vehicles are Leyland-M.C.W. 58-seaters.
FLOODS NO HINDRANCE TO FAIR I N spite of heavy flooding on the Delhi site of the Indian Industries Fair, and disruption of communications between Delhi and Bombay, all exhibits on the Ashok-Leyland stand were in position when the fair opened on October 29.
A sectioned Royal Tiger Worldmaster 18-ft.-wheelbase model was exhibited. The Comet range was,represented by three passenger chassis and a tipper. Mr. Jawaharlal Nehru, Indian Prime Minister, visited the stand and paid particular attention to the Coinets, which are to be built at Madras.