• Why C-licence Insurance is Going Up
18th November 1955
Page 36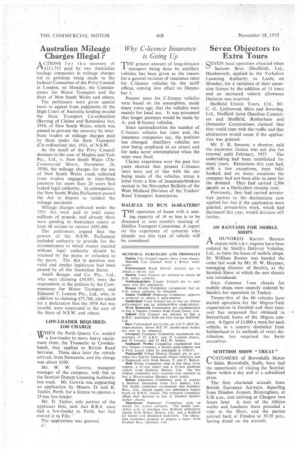 Page 36, 18th November 1955 —
• Why C-licence Insurance is Going Up
Close
THE. greater amount of long-distance transport being done by ancillary vehicles has been given as the reason for a general revision of insurance rates for C-licence vehicles by the tariff offices, coming into effect on December 1.
Present rates for C-licence vehicles were based on the assumption, made many years ago, that the vehicles were mainly for local use. It was presumed that longer journeys would be made by Aand B-licence vehicles.
Since nationalization the number of C-licence vehicles has risen and, the insurance companies say, the position has changed. Ancillary vehicles are now being employed to an extent and for tasks never contemplated when the rates were fixed.
Claims experience over the past few years showed that present C-licence rates were out of line with the use being made of the vehicles, states a letter from a firm of insurance-brokers quoted in the November Bulletin of the West Midland Division of the Traders' ' Road Transport Association.
HALIFAX TO RUN 14-SEATERS?
rE operation of buses with a seating capacity of 14 or less is to be discussed at next month's meeting of Halifax Transport Committee. A report on r the experience of concerns who already run this type of vehicle will -be considered.