90% of Lorries in List . 13 Sold N EARLY 40 per
18th November 1955
Page 35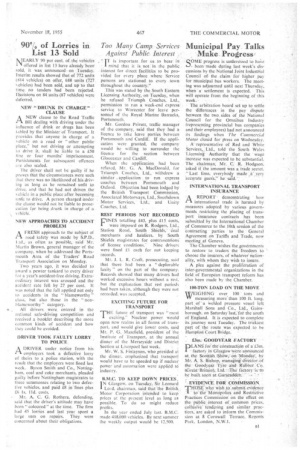 Page 35, 18th November 1955 —
90% of Lorries in List . 13 Sold N EARLY 40 per
Close
cent. of the. vehicles Offered in list 13 have already 'been' sold, it was announced. on. ,Tuesday. Interim results showed that of 772 units (814 vehicles) on offer, 688 units (727 vehicles) had been sold, and up to that time no tenders had been rejected. Decisions on 84 units,(87 vehicles) were deferred.
NEW " DRUNK IN CHARGE" • CLAUSE
A NEW clause to the Road Traffic Bill dealing with driving under the influence of drink or drugs has • been tabled by the Minister of Transport. It provides that anyone in charge of a vehicle on a road or other public' place," but not driving or attempting to drive it. shall be liable to a £50 fine or four months' imprisonment. Punishments for subsequent offences ;Ire also scaled.
The driver shall not be guilty if he proves that the circumstances were such that there was no likelihood'of his•driving as long as he remained unfit to drive, and that he had not driven the vehicle in a public place after becoming unfit to drive. A person charged Under the clause would not be liable to prosecution for being drunk in charge of .a.
NEW APPROACHES TO ACCIDENT • • • PROBLEM
AFRESH approach to the subject of road Safety was made by S.P.D., as often as 'possible, said Mr. Martin Brown, general Manager of the company, when he addressed the Portsmouth Area of the Traders' Road Transport Association on Monday. .
Two years ago, it was decided to award a pewter tankard to every driver for a year's accident-free driving. Extraordinary interest Was •aroused and the accident rate fell by 27 per cent. It was noted that the fall applied not only to accidents in the " blameworthy " class, but also those in the " nonblameworthy " category.
• All drivers. were, entered in the national safe-driving competition and received a booklet describing the more common kinds of accident and how they could be avoided.
DRIVER TOOK FAULTY LORRY TO POLICE ADRIVER under notice from his employers took a defective lorry of theirs to a police station, with the result that the employers were fined last week. Byron Smith and Co., Nottingham, coal and coke merchants, pleaded guilty before Nottingham magistrates to three summonses relating to two defective vehicles, and paid £8 in fines plus £6 Is. ltd. costs.
Mr. A. C. G. Rothera. defending, said that the driver's attitude may have' been "coloured" at the time. The firm had 45 lorries and last year spent a large sum on repairs. They were concerned about their obligations.