Recommendations on Dangerous Loads
18th November 1955
Page 33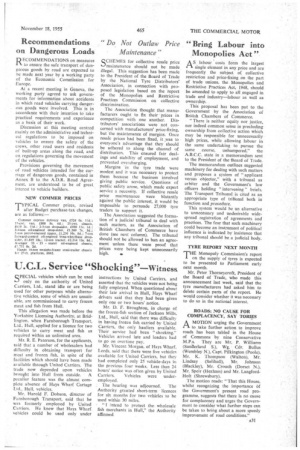 Page 33, 18th November 1955 —
Recommendations on Dangerous Loads
Close
RECOMMENDATIONS on measures Nto ensure the safe transport of dangerous goods by road are expected to be made next year by a working party of the Economic Comniission for -Europe.
At a recent meeting in Geneva, the working party agreed to ask governments for information about accidents in which road vehicles carrying dangerous goods were involved. This is in accordance with their intention to take practical requirements and experience as a basis of their work.
Discussion at this meeting centred mainly on the administrative and technical regulations to be imposed on vehicles to ensure the safety of the crews, other road users and residents of built-up areas along the road, and on regulations governing the movement of the vehicles.
Provisions governing the movement of road vehicles intended for the carriage of dangerous goods, contained in Annex B to , the A.D.R. Road Agreement, are understood to be of great. interest to vehicle builders.
NEW COMMER PRICES
TYPICAL Commer prices, revised I after Budget purchase-tax changes, are as follows:—
Commer express delivery vast. £524 Os. lid,: ls-cwt. van, £800 to. 6c1.; 25-cwt, chassis, £610 2$. 11d.; 2-3-ton drolusider, £980 Its. id.; 3-4-ton oil-engined drop-sider, £1369 7s. 5-ton petrol-engmed tipper, £1,230 10s. 8d.; 7-ton forward-control oil-engined long-wheelbase dropsafer, £1,849 188.; 12-ton tractor, £2.214 13s. 8d.; Avenger 33 -35 seater oil-engined chassis, £1.751 8s. 2d. '
lands 10-son straight-frame semi-trailer chass:s for 27-ft. platform, £662.