GRAVE CHARGES AGAINST BUS COMPANY
18th November 1938
Page 83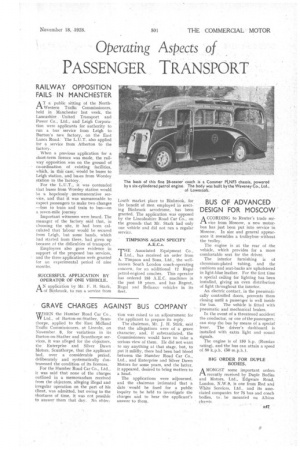 Page 83, 18th November 1938 —
GRAVE CHARGES AGAINST BUS COMPANY
Close
WHEN the Humber Road Car Co., Ltd., of .Burton-on-Stather, Scunthorpe, applied to the East Midland Traffic Commissioners, at Lincoln, on November. 8, for variations in its Burton-on-Stather and Scunthorpe services, it was alleged for the objectors, the Enterprise and Silver Dawn Motors, Scunthorpe, that the applicant had, over a considerable period, deliberately and systematically Contravened the condition of its licences.
For the Humber Road Car Co., Ltd., it was said that none of the charges outlined in a memorandum received from the objectors, alleging illegal and irregular operation on the part of his dient, was admitted, but owing to the shortness of time, it was not possible to answer them that day. No objec tion was raised to an adjournment for the applicant to prepare its reply.
The chairman, Mr. J. H. Stirk, said that the allegations were of a grave character, and, if substantiated, the Commissioners would have to take a serious view of them. He did not want to say anything at that stage, but, to put it mildly, there had been bad blood between the Humber Road Car Co., Ltd., and Enterprise and Silver Dawn Motors for some years, and the latter, it appeared, desired to bring matters to a head.
The applications were adjourned, and the chairman intimated that a date would be fixed for a public inquiry to he held to investigate the charges and to hear the applicant's answer to them.