National Health and Defence
18th November 1938
Page 77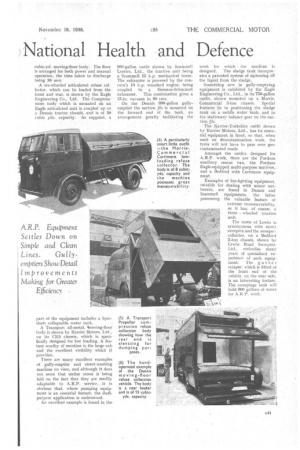 Page 78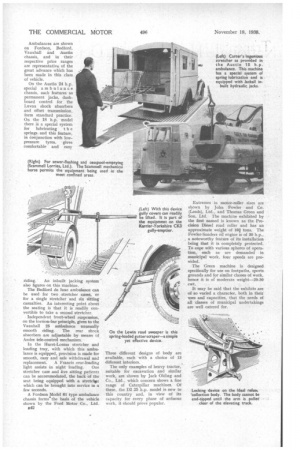 Page 77, 18th November 1938 —
National Health and Defence
Close
cubic-yd. moving-floor body. The floor is arranged for both power and manual operation, the time taken to discharge being 30 secs.
A six-wheeled articulated refuse col lector, which can he loaded from the front and rear, is shown by the Eagle Engineering Co., Ltd. The Compress more body which is mounted on an Eagle articulated unit is coupled up to a Dennis tractor chassis, and is of 20 cubic yds. capacity. As supplied, a part of the equipment includes a Spar_shaft collapsable water tank.
A Transport all-metal, .ornoving-floor body is shown by Earner Motors, Ltd., on. its CK3 chassis, which is specifically designed for low loading. A feature worthy of mention is the large cab and the excellent visibility which it provides.
There are many excellent examples of gully-emptier and street-washing machine on view, and although it does not seem that undue stress is being laid on the fact that they are readily adaptable to A.R.P. service, , it is obvious that, where pumping equipment is an essential feature, the dualpurpose application is understood.
An excellent example is found in the 800-gallon outfit shown by Scammell Lorries, Ltd., the tractive unit being a Scammell 15 h.p. mechanical horse. The exhauster is powered by the concern's 10 h.p. standard engine, being coupled to a Siemens-Schuckert exhauster. This c.ombination gives a 15-in. vacuum in, GO secs.
On the Dennis 600-gallon gullyemptier the suction jib is mounted on the forward end hf the tank, an' arrangement greatly facilitating the work for which the machine is
designed. The sludge tank incorporates a patented system of siphoning off the liquid from the sludge.
Something new in gully-emptying, equipment is exhibited by the Eagle Engineering Co., Ltd., in its 750-gallon outfit, shown mounted on a MorrisCommercial 3-ton chassis. Special features he in positioning the sludge tank on a saddle water tank, and in the stationary balance gear on the suc tion jib. • .
The • Karrier-Yorkshire outfit shown by Karrier Motors,Ltd., has its essential equipment in front, so that, when used on decontamination work, the tyres will not have to pass over gascontaminated roads.
Amongst the outfits designed for A.R.P. work, there are the Fordson auxiliary rescue van, the Fordson Eagle-equipped multi-purpose machine, and a Bedford with Carrimore equip ment. •
Examples of fire-fighting equipment, suitable for dealing witlt minor' out-. breaks, are found in Dennis and Scammeli equipments, the latter possessing the valuable feature of extreme manceuvrability, as it has, of course, a three wheeled tractive unit.
The name of Lewin is synonymous with street sweepers and the sweepercollector, on a Bedford 2-ton chassis, shown by Lewin Road Sweepers, Ltd., embodies many years of specialized ex-; perience of such equipment. The gutter scraper, which is fitted at the front end of the vehicle, on the near side, is an interesting feature. The sweepings tank will hold 000 gallons of water for A.R.P. work. Ambulances are shown on Fordson, Bedford, Vauxhall and Austin chassis, and in their respective price ranges are representative of the great advance which has been made in this class of vehicle.
On the Austin 24 h.p. special ambula.nce chassis, such features as permanent jacks, dashboard control for the Luvax shock absorbers and offset transmission, form standard practice. On the 18 h.p. model there is a special system
for lubricating t h e springs and this feature, in Conjunction with lowpressure tyres, gives comfortable and easy riding. An inbuilt jacking system also figures on this machine.
The Bedford de luxe ambulance can be used for two stretcher cases, or for a single stretcher and six sitting casualties. An interesting point about the seating is that it is readily convertible to take a second stretcher.
Independent front-wheel suspension, on the torsion-bar principle, gives to the Vauxhall 25 ambulance unusually smooth riding. The rear shock absorbers are adjustable by means of Andre tele-control mechanism.
In the Hurst-Lomas stretcher and loading tray, with which this ambulance is equipped, provision is made for smooth, easy and sale withdrawal and replacement A Francis .rear-loading light assists in night loading. One stretcher case and five sitting patients can be accommodated, the back Of the seat being equipped with a stretcher which can be brought into service in a few seconds.
A Fordson Model 61 type ambulance chassis forms the basis of the vehicle shown by the Ford Motor Co., Ltd.
B42 Three different designs of body are available, each with a choice of 13 different interiors.
The only examples of heavy tractor, suitable for excavation and similar work, are shown by Jack Olding and Co., Ltd., which concern shows a fine range of Caterpillar machines. Of these, the D2 25 h.p. model is new to this country and, in view of its capacity for every phase of arduous work, it should prove popular. Extremes in motor-roller sizes are shown by John Fowler and Co. (Leeds), Ltd., and Thomas Green and Son, Ltd. The machine exhibited by the first named is known as the Precision Diesel road roller and has an approximate weight of 101 tons. The Fowler-Sanders oil engine is of 30 h.p., a noteworthy feature of its installation being that it is completely protected. To cope with various spheres of opera. tion, such as are demanded in municipal work, four speeds are provided.
The Green machine is designed specifically for use on footpaths, sports grounds and for similar classes of work, hence it is of moderate weight-20-30 cwt.
It may be said that the exhibits are of so varied a character, both in their uses and capacities, that the needs of all classes of municipal undertakings are well catered for.