An American Utility Van
18th November 1938
Page 73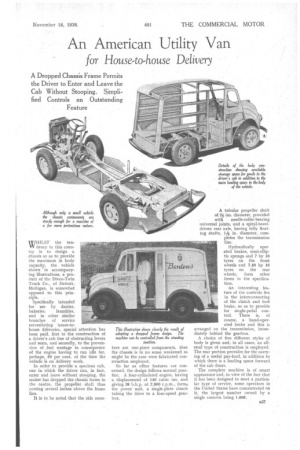 Page 73, 18th November 1938 —
An American Utility Van
Close
for House-to-house Delivery
A Dropped Chassis Frame Permits the Driver to Enter and Leave the Cab Without Stooping. Simplified Controls an Outstanding Feature
WAILLST the tenVV dency in this country is to design a chassis so as to provide the maximum in body capacity. the vehicle shown in accompanying illustrations, a product of the Divco-Twin Truck Co., of Detroit, Michigan, is somewhat opposed to this principle.
Specifically intended for use by dairies, bakeries, laundries, and in• other similar branches of service necessitating house-tohouse deliveries, special attention has been paid, first to the construction of a driver's cab free of obstructing levers and seats, and secondly, to the prevention of fuel wastage in consequence of the engine having to run idle for, perhaps, 50 per cent, of the time the vehicle I's on delivery work.
In order to provide a spacious cab, one in. which the driver can, in fact, enter and leave without stooping, the maker has dropped the chassis frame in the centre, the propeller, shaft thus coming several inches above the frame line.
It is to be noted that the side mem
This illustration shows dearly the result of adopting a dropped frame design. The machine can be controlled from the standing position.
hers are one-piece components, thus the chassis is in no sense weakened as might be the case were fabricated construction employed.
So far as other features are concerned, the design follows normal practice. A four-cylinderecl engine, having a displacement of 140 cubic ins, and giving 98 b.h.p. at 2,800 r.p.m., forms the power unit, a single-plate clutch taking the drive to a four-speed gearbox. A tubular propeller shaft of 2f ins, diameter, provided with needle-roller-bearing universal joints, and a spiral-beveldriven rear axle, having fully floating shafts, 1* in. diameter, completes the transmission line.
Hydraulically operated brakes, semi-elliptic springs and 7 by 16 tyres on the front wheels and 7.30 by 16 tyres on the rear wheels, form other items in the specification.
An interesting feature of the controls lies in the interconnecting of the clutch and foot brake, so as to provide for single-pedal control. There is, of course, a hand-operated brake and this is arranged on the transmission, immediately behind the gearbox.
A choice of five different styles of body is given and,in all cases, an allsteel type of construction is employed. The rear portion provides for the carrying of a useful pay-load, in addition to which there is a loading space forward of the cab doors.
The complete machine is of smart appearance and, in view of the fact that it has been designed to meet a particular type of service, some operators in the United States have concentrated on it, the largest number owned by a single concern being 1,668,