One Hears
18th November 1938
Page 47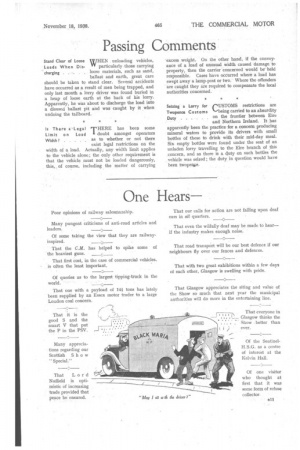 Page 47, 18th November 1938 —
One Hears
Close
Poor opinions of railway salesmanship.
Many pungent criticisms of anti-road articles and leaders.
Of some taking the view that they are railwayin spired .
That the C.M. has helped to spike some of the heaviest guns.
That first cost, in the case of commercial vehicles. is often the least important.
Of queries as to the largest tipping-truck in the world.
That one with a payload of 141 tons has lately been supplied by an Essex motor trader to a large London• coal concern.
That it is the good S and the smart V that put the P in the PSV.
Many appreciations regarding our Scottish Show "Special."
That Lord Nuffield is optimistic of increasing trade provided that peace be ensured.
That our calls for action are not falling upon deaf ears in all quarters.
That even the wilfully deaf may be made to hear— if the industry makes enough noise.
That road transport will be our best defence if our neighbours fly over our fences and defences.
That with two great exhibitions within a few days of each other, Glasgow is swelling with pride.
That Glasgow appreciates the siting and value of the Show so much that next year the municipal authorities will do more in the entertaining line.
That everyone in . , . Glasgow thinks the , . Show -better than • ;ever.
Of the SentinelH.S.G. as a centre of interest at the Kelvin Hall.
Of one visitor who thought at first that it was some form of refuse collector.