Prosperity the Keynote of the Show
18th November 1938
Page 46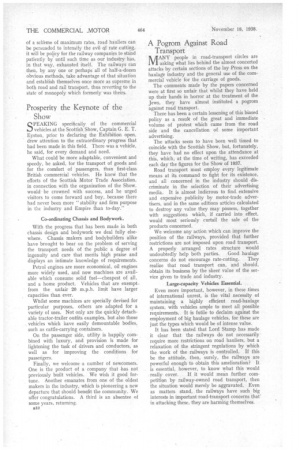 Page 46, 18th November 1938 —
Prosperity the Keynote of the Show
Close
SPEAKING specifically of the commercial vehicles at the Scottish Show, Captain G. E. T. Eyston, prior to declaring the Exhibition open, drew attention to the extraordinary progress that had been made in this field. There was a vehicle, he said, for every demand and need.
What could be more adaptable, convenient and speedy, he asked, for the transport of goods and for the comfort of passengers, than first-class British commercial vehicles. He knew that the efforts of the Scottish Motor Trade Association, in connection with the organization of the Show, would • be crowned with success, and he urged visitors to come forward and buy, because there had never been more "stability and firm purpose in the industry and Empire than to-day."
Co-ordinating Chassis and Bodywork.
With the progress that has been made in both chassis design and bodywork we deal fully elsewhere. Chassis makers and bodybuilders alike have brought to bear on the problem of serving the transport needs of the public a degree of ingenuity and care that merits high praise and displays an intimate knowledge of requirements.
Petrol engines are more economical, oil engines more widely used, and now machines are available which consume solid fuel—cheapest of all, and a home product. Vehicles that are exempt fromthe unfair 20 m.p.h. limit have larger capacities than ever.
Whilst some machines are specially devised for particular purposes, others are adapted for a variety of uses. Not only are the quickly detachable tractor-trailer outfits examples, but also those vehicles which have easily demountable bodies, such as cattle-carrying containers.
On the passenger side, utility is happily combined with luxury, and provision is made for lightening the task of drivers and conductors, as well as for improving the conditions for passengers.
Finally, we welcome a number of newcomers. One is the product of a company that has not previously built vehicles. We wish it good fortune. Another emanates from one of the oldest makers in the industry, which is pioneering a new departure that should benefit the community. We offer congratulations. A third is an absentee of some years, returning.
sb