A Pogrom Against Road Transport
18th November 1938
Page 46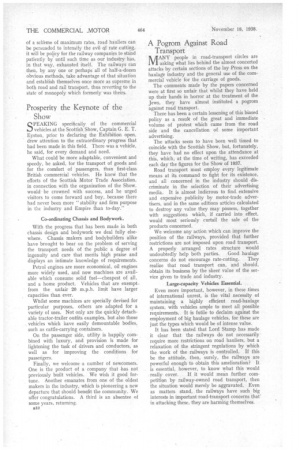 Page 46, 18th November 1938 —
A Pogrom Against Road Transport
Close
MANY people in road-transport circles are asking what lies behind the almost concerted attacks by certain sections of the lay Press on the haulage industry and the general use of the commercial vehicle for the carriage of goods.
The comments made by the papers concerned were at first so unfair that whilst they have held up their hands in horror at the treatment of the Jews, they have almost instituted a pogrom against road transport.
There has been a certain lessening of this biased policy as a result of the great and immediate volume of protest which came from the road side and the cancellation of some important advertising.
The attacks seem to have been well timed to coincide with the Scottish Show, but, fortunately, they have had no effect upon the attendance at this, which, at the time of writing, has exceeded each day the figures for the Show of 1937.
Road transport must employ every legitimate means at its command to fight for its existence, and all concerned in the industry should discriminate in the selection of their advertising media. It is almost ludicrous to find extensive and expensive publicity by motor-trade advertisers, and in the same editions articles calculated to destroy any value they may possess, together with suggestions which, if carried into effect, would most seriously curtail the sale of the products concerned.
We welcome any action which can improve the position of the railways, provided that further restrictions are not imposed upon road transport. A properly arranged rates structure would undoubtedly help both parties. Good haulage concerns do not encourage rate-cutting. They realize that road transport can, and should, obtain its business by the sheer value of the service given to trade and industry.
Large-capacity Vehicles Essential.
Even more important, however, in these times of international unrest, is the vital necessity of maintaining a highly efficient road-haulage system, with vehicles ample to meet all possible requirements. It is futile to declaim against the employment of big haulage vehicles, for these are just the types which would be of intense value.
It has been stated that Lord Stamp has made it clear that the railways do not necessarily require more restrictions on road hauliers, but a relaxation of the stringent regulations by which the work of the railways is controlled. If this be the attitude, then, surely, the railways are powerful enough to obtain this amelioration? It is essential, however, to know what this would really cover. If it would mean further competition by railway-owned road transport, then the situation would merely be aggravated. Even as matters stand, the railways have such big interests in important road-transport concerns thatin attacking these, they are harming themselves.