A Crazy Rates Structure
18th November 1938
Page 45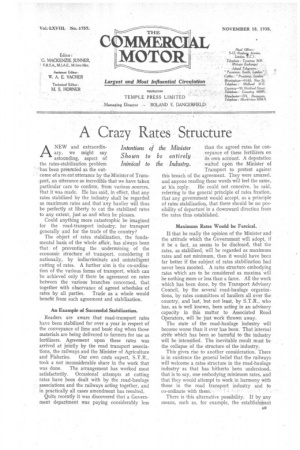 Page 46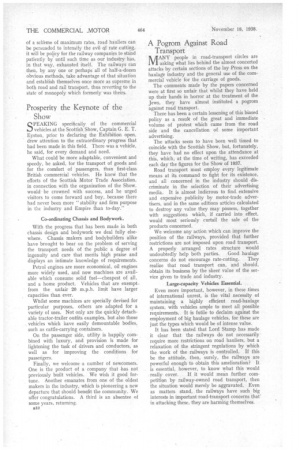 Page 45, 18th November 1938 —
A Crazy Rates Structure
Close
A, NEW and extraordinary, we might say astounding, aspect of the rates-stabilization problem has been presented as the outcome of a recent utterance by the Minister of Transpprt, an utterance so incredible that we have taken particular care to confirm, from various ,sources, that it was made. He has said, in effect, that any rates stabilized by the industry shall be regarded as maximum rates and that any:haulier will thus be perfectly at liberty to cut the stabilized rates to any extent, just as and when he pleases.
Could anything more catastrophic be imagined for the road-transport industry, for transport generally and for the trade of the country?
The object of rates stabilization, the fundamental basis of the whole affair, has always been that of preventing the undermining of the economic structure' of transport, considering it nationally, by indiscriminate and unintelligent cutting of rates. A further aim is the co-ordination of the various forms of transport, which can be achieved only if there be agreement on rates between the various branches concerned, that together with observance of agreed schedules of rates by all parties. Trade as a whole would benefit from such agreement and stabilization.
An Example of Successful Stabilization.
Readers are aware that road-transport rates have been stabilized for over a year in respect of the conveyance of lime and basic slag when those materials are being delivered to farmers for use as fertilizers. Agreement upon these rates was arrived at jointly by the road transport associations, the railways and the Minister of Agriculture and Fisheries. Our own costs expert, S.T.R., took a not inconsiderable share in the work that was done. The arrangement has worked most satisfactorily. Occasional attempts at cutting rates have been dealt with by the road-haulage associations and the railways acting together, and in practically all cases amendment has resulted.
Quite recently it was discovered that a Government department was paying considerably less than the agreed rates for conveyance of these fertilizers on its own account. A deputation waited upon the Minister of Transport to protest against this breach of the agreement. They were amazed, and anyone reading these words will feel the same, at his reply. He could not conceive, he said, referring to the general principle of rates fixation, that any government would accept, as a principle of rates stabilization that there should be no possibility of departure in a downward direction from the rates thus established.
Maximum Rates Would be Farcical.
If that be really the opinion of the Minister and the attitude which the Government will adopt, if it be a fact, as seems to be disclosed, that the rates, as stabilized, will be regarded as maximum rates and not minimum, then it would have been far better if the subject of rates stabilization had never been mooted. A rates structure embodying rates which are to be considered as maxima will be nothing more or less than a farce. All the work which has been done, by the Transport Advisory Council, by the several road-haulage organizations, by rates committees of hauliers all over the country, and last, but not least, by S.T.R., who has, as is well known, been acting in an advisory capacity in this matter to Associated Road Operators, will be just work thrown away.
The stare of the road-haulage industry will become worse than it ever has been. That internal strife which has been so harmful to the industry will be intensified. The inevitable result must be the collapse of the structure of the industry.
This gives rise to another consideration. There is in existence the general belief that the railways will welcome a rates structure in the road-haulage industry as that has hitherto been understood, that is to say, one embodying minimum rates, and that they would attempt to work in harmony with those in the road transport industry and to co-ordinate with them.'
There is this alternative possibility. If by any means, such as, for example, the establishrhent na of a sclieme of maximum rates, road hauliers can be persuaded to intensify the evil of rate cutting, it will be policy for the railway companies to stand patiently by until such time as our industry has, in that way, exhausted itself. The railways can then, by any one or perhaps all of half-a-dozen obvious methods, take advantage of that situation and establish themselves once more as supreme in both road and rail transport, thus reverting to the state of monopoly which formerly was theirs.