Foreign offence blitz
18th march 1993
Page 8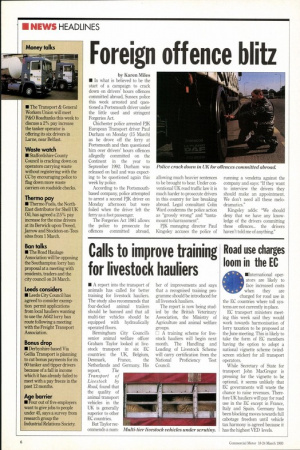 Page 8, 18th march 1993 —
Foreign offence blitz
Close
by Karen Miles • In what is believed to be the start of a campaign to crack down on drivers' hours offences committed abroad, Sussex police this week arrested and questioned a Portsmouth driver under the little used and stringent Forgeries Act Chichester police arrested PJK European Transport driver Paul Durham on Monday (15 March) as he drove off the ferry at Portsmouth and then questioned him over drivers' hours offences allegedly committed on the Continent in the year to September 1992. Durham was released on bail and was expecting to be questioned again this week by police.
According to the Portsmouthbased company, police attempted to arrest a second PJK driver on Monday afternoon but were foiled when the driver left the ferry as a foot passenger.
The Forgeries Act 1981 allows the police to prosecute for offences committed abroad, allowing much heavier sentences to be brought to bear. Under conventional UK road traffic law it is much harder to prosecute drivers in this country for law breaking abroad. Legal consultant Colin Ward condemns the police action as "grossly wrong" and "tantamount to harrassment".
PJK managing director Paul Kingsley accuses the police of running a vendetta against the company and says: "If they want to interview the drivers they should make an appointment. We don't need all these melodramatics."
Kingsley adds: `We should deny that we have any knowledge of the drivers committing these offences... the drivers haven't told me of anything."