• The Transport & General Workers Union will meet
18th march 1993
Page 8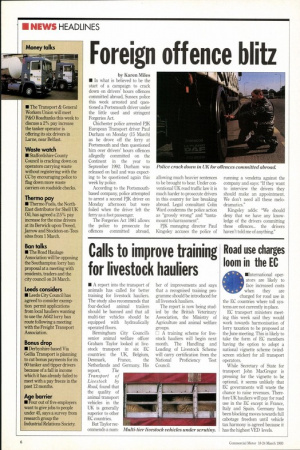 Page 8, 18th march 1993 —
• The Transport & General Workers Union will meet
Close
• The Transport & General Workers Union will meet P&O Roadtanks this week to discuss a 2% pay increase the tanker operator is offering its six drivers in Lame, near Belfast.
Waste watch • Staffordshire County Council is cracking down on operators carrying waste without registering with the CC by encouraging police to flag down more waste carriers on roadside checks.
Thermo pay • Thermo Fuels, the NorthEast distributor for Shell UK Oil, has agreed a 2.5% pay increase for the nine drivers at its Berwick-upon-Tweed, Jarrow and Stockton-on-Tees sites from 1 March.
Ban talks • The Road Haulage Association will be opposing the Southampton lorry ban proposal at a meeting with residents, traders and the city council on 24 March.
Leeds considers • Leeds City Council has agreed to consider exemption permit applications from local hauliers wanting to use the A642 lorry ban route following a meeting with the Freight Transport Association.
Bonus drop • Derbyshire-based Via Gellia Transport is planning to cut bonus payments for its 60 tanker and tipper drivers because of a fall in income which it has already failed to meet with a pay freeze in the past 12 months.
Age barrier • Four out of five employers want to give jobs to people under 45, says a survey from research group the Industrial Relations Society.