Welfare bus driving licence
18th march 1993
Page 48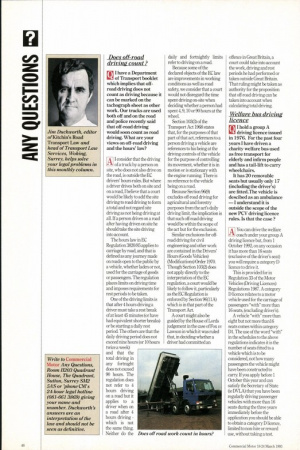 Page 48, 18th march 1993 —
Welfare bus driving licence
Close
I hold a group A driving licence issued in 1976. For the past four years I have driven a charity welfare bus used as free transport for elderly and infirm people and has a tail-lift to carry wheelchairs.
It has 20 removable seats but usually only 17 (including the driver's) are fitted.The vehicle is descibed as an ambulance — I understand it is outside the scope of the new PCV driving licence rules. Is that the case ?
You can drive the welfare coach under your group A driving licence but, from 1 October 1992, on any occasion it has more than 16 seats (exclusive of the driver's seat) you will require a category D licence to drive it.
This is provided for in Regulation 33 of the Motor Vehicles (Driving Licences) Regulations 1987. A category D licence relates to a motor vehicle used for the carriage of passengers "with" more than 16 seats, (excluding driver's).
A vehicle "with" more than eight but not more than16 seats comes within category Dl. The use of the word "with" in the schedules to the above regulations indicates it is the number of seats fitted to a vehicle which is to be considered, not how many passengers the vehicle might have been constructed to carry. If you apply before 1 October this year and can satisfy the Secretary of State (ie DVLA) that you have been regularly driving passenger vehicles with more than 16 seats during the three years immediately before the application you should be able to obtain a category D licence, limited to non-hire or reward use, without taking a test