BATTLE LINES
18th march 1993
Page 44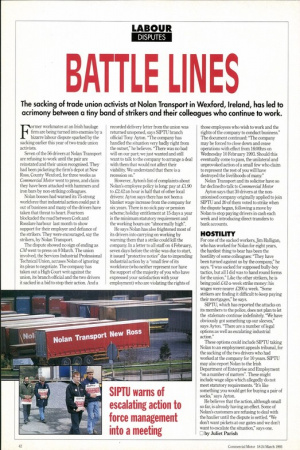 Page 44, 18th march 1993 —
BATTLE LINES
Close
The sacking of trade union activists at Nolan Transport in Wexford, Ireland, has led to acrimony between a tiny band of strikers and their colleagues who continue to work.
Former workmates at an Irish haulage firm are being turned into enemies by a bizarre labour dispute sparked by the sacking earlier this year of two trade union activists.
Seven of the 56 drivers at Nolan Transport are refusing to work until the pair are reinstated and their union recognised. They had been picketing the firm's depot at New Ross, County Wexford, for three weeks as Commercial Motor went to press, and claim they have been attacked with hammers and iron bars by non-striking colleagues.
Nolan bosses had warned its 75-strong workforce that industrial action could put it out of business and many of the drivers have taken that threat to heart. Fourteen blockaded the road between Cork and Rosslare harbour last month to show support for their employer and defiance of the strikers. They were encouraged, say the strikers, by Nolan Transport.
The dispute showed no sign of ending as CM went to press on 9 March. The union involved, the Services Industrial Professional Technical Union, accuses Nolan of ignoring its pleas to negotiate. The company has taken out a High Court writ against the union, its branch official and the two drivers it sacked in a bid to stop their action. And a recorded delivery letter from the union was returned unopened, says SIPTU branch official Tony Ayton. "The company has handled the situation very badly right from the outset," he believes. "There was no bad will on our part; we just wanted and still want to talk to the company to arrange a deal with them that would not affect their viability. We understand that there is a recession on."
However, Ayton's list of complaints about Nolan's employee policy is long: pay at £1.90 to £2.42 an hour is half that of other local drivers: Ayton says there has not been a blanket wage increase from the company for six years. There is no sick pay or pension scheme; holiday entitlement at 15 days a year is the minimum statutory requirement and the working hours are "abnormally high".
He says Nolan has also frightened most of its drivers into carrying on working by warning them that a strike could kill the company. In a letter to all staff on 4 February, seven days before the strike was due to start, it issued "protective notice" due to impending industrial action by a "small few of its workforce (who neither represent nor have the support of the majority of you who have expressed your satisfaction with your employment) who are violating the rights of those employees who wish to work and the rights of the company to conduct business." The document continued: "The company may be forced to close down and cease operations with effect from 16:00hrs on Wednesday 10 February 1993. Should this eventually come to pass, the unilateral and unprovoked action of a small few who claim to represent the rest of you will have destroyed the livelihoods of many" Nolan Transport and its solicitor have so far declinedto talk to Commercial Motor Ayton says that 30 drivers at the nonunionised company originally applied to join SIPTU and 20 of them voted to strike when the dispute began, following a move by Nolan to stop paying drivers in cash each week and introducing direct transfers to bank accounts.
HOSTILITY For one of the sacked workers, Jim Halligan, who has worked for Nolan for eight years, the hardest thing to bear has been the hostility of some colleagues: "They have been turned against us by the company" he says. "I was sacked for supposed bully-boy tactics, but all I did was to hand round forms for the union." Like the other strikers, he is being paid £42-a-week strike money: his wages were nearer £200 a week. "Some strikers are finding it difficult to keep paying their mortgages," he says.
SIPTU, which has reported the attacks on its members to the police, does not plan to let the stalemate continue indefinitely. "We have obviously got something up our sleeves," says Ayton. "There are a number of legal options as well as escalating industrial action."
These options could include SIPTU taking Nolan to an employment appeals tribunal, for the sacking of the two drivers who had worked at the company for 10 years. SIPTU may also report Nolan to the Irish Department of Enterprise and Employment "on a number of matters". These might include wage slips which allegedly do not meet statutory requirements. "It's like something you would get for buying a pair of socks," says Ayton.
He believes that the action, although small so far, is already having an effect. Some of Nolan's customers are refusing to deal with the haulier until the dispute is settled. "We don't want pickets at our gates and we don't want to escalate the situation," says one. El by Juliet Parish