anything
18th march 1993
Page 26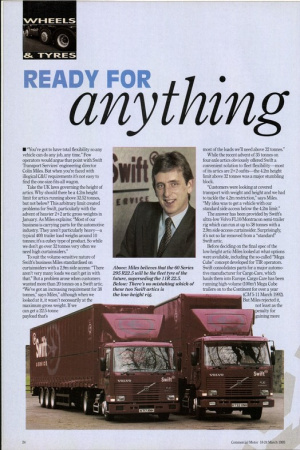 Page 27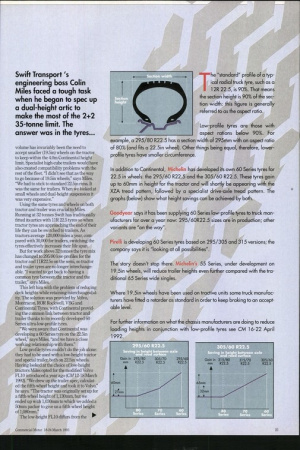 Page 28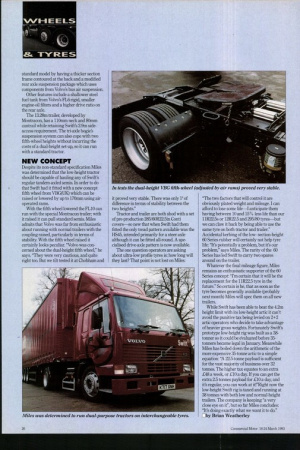 Page 26, 18th march 1993 —
anything
Close
Swift Transport 's engineering boss Colin Miles faced a tough task when he began to spec up a dual-height artic to make the most of the 2+2 35-tonne limit. The answer was in the tyres...
• "You've got to have total flexibility so any vehicle can do any job, any time." Few operators would argue that point with Swift Transport Services' engineering director Colin Miles. But when you're faced with illogical C&U requirements it's not easy to find the one-size-fits-all wagon.
Take the UK laws governing the height of artics. Why should there be a 4.2m height limit for artics running above 32.52 tonnes, but not below? This arbitrary limit created problems for Swift, particularly with the advent of heavier 2+2 artic gross weights in January. As Miles explains: "Most of our business is carrying parts for the automotive industry. They aren't particularly heavy—a typical 40ft trailer load weighs around 10 tonnes; it's a cubey type of product. So while we don't go over 32 tonnes very often we need high curtainsiders."
To suit the volume-sensitive nature of Swift's business Miles standardised on curtainsiders with a 2.9m side access: "There aren't very many loads we can't get in with that." But a problem arose when customers wanted more than 20 tonnes on a Swift artic. "We've got an increasing requirement for 38 tonnes," says Miles," although when we looked at it, it wasn't necessarily at the maximum gross weight. If we can get a 22.5-tonne payload that's most of the loads we'll need above 32 tonnes."
While the recent advent of 35 tonnes on four-axle artics obviously offered Swift a convenient solution to fleet flexibility—most of its artics are 2+2 oufits—the 4.2m height limit above 32 tonnes was a major stumbling block.
"Customers were looking at covered transport with weight and height and we had to tackle the 4.2m restriction," says Miles. "My idea was to get a vehicle with our standard side access below the 4.2m limit."
The answer has been provided by Swift's ultra-low Volvo FL10/Montracon semi-trailer rig which can run at up to 38 tonnes with a 29m side-access curtainsider. Surprisingly, it's not so far removed from a "standard" Swift artic.
Before deciding on the final spec of the low-height artic Miles looked at what options were available, including the so-called "Mega Cube" concept developed for UR operators. Swift consolidates parts for a major automotive manufacturer for Cargo Care, which hauls them into Europe. Cargo Care has been running high-volume (100m3) Mega Cube trailers on to the Continent for over a year (CM5-11 March 1992). But Miles rejected it, not least as the penalty for gaining more volume has invariably been the need to accept smaller (19.5in) wheels on the tractor to keep within the 4.0m Continental height limit. Specialist high-cube trailers would have also created compatibility problems with the rest of the fleet. "I didn't see that as the way to go because of 19.5in wheels," says Miles. "We had to stick to standard 22.5in rims. It was the same for trailers. When we looked at small wheels and dual-height suspension it was very expensive."
Using the same tyres and wheels on both tractor and trailer was crucial to Miles. Running at 32 tonnes Swift has traditionally fitted its attics with 11R 22.5 tyres so when tractor tyres are approaching the end of their life they can be switched to trailers. As tractors average 120,000 miles a year, compared with 30,000 for trailers, switching the tyres effectively increases their life span.
But for work above 32 tonnes the tyre mix has changed to 295/80 low-profiles for the tractor and 11R22.5s on the semi, so tractor and trailer tyres are no longer interchangeable. "I wanted to get back to having a common tyre between the tractor and the trailer," says Miles.
This left him with the problem of reducing deck heights while retaining interchangeability. The solution was provided by Volvo, Montracon, ROR Rockwell, VBG and Continental Tyres, with Continental providing the common link between tractor and trailer thanks to its recently developed 60 Series ultra-low-profile tyres.
"We were aware that Continental was developing a 60 Series tyre on the 22.5in wheel," says Miles, "and we have a close working relationship with them."
Low-profile tyres couldn't do the job alone: they had to be used with a low-height tractor and special trailer, both on 22.5in wheels. Having looked at the choice of low-height tractors Miles opted for the modified Volvo FL10 introduced a year ago (CM12-18 March 1992). "We drew up the trailer spec, calculated the fifth-wheel height and took it to Volvo," he says. "The tractor was originally set up for a fifth-wheel height of 1,130mm, but we ended up with 1,030mm to which we added a 50mm packer to give us a fifth-wheel height of 1,080mm."
The low-height FL10 differs from the 10" standard model by having a thicker section frame contoured at the back and a modified rear axle suspension package which uses components from Volvo's bus air suspension.
Other features include a shallower steel fuel tank from Volvo's FL6 rigid, smaller engine-oil filters and a higher drive ratio on the rear axle.
The 13.28m trailer, developed by Montracon, has a 110mm neck and 80mm cantrail while retaining Swift's 2.9m sideaccess requirement. The tri-axle bogie's suspension system can also cope with two fifth-wheel heights without incurring the costs of a dual-height set-up, so it can run with a standard tractor.
NEW CONCEPT Despite its non-standard specification Miles was determined that the low-height tractor should be capable of hauling any of Swift's regular tandem-axled semis. In order to do that Swift had it fitted with a new concept fifth wheel from VBG(UK) which can be raised or lowered by up to 170mm using airoperated rams.
With the fifth wheel lowered the FL10 can run with the special Montracon trailer; with it raised it can pull standard semis. Miles admits that Volvo was far from enthusiastic about running with normal trailers with the coupling raised, particularly in terms of stability. With the fifth wheel raised it certainly looks peculiar. "Volvo was concerned about the dual-height fifth wheel," he says. "They were very cautious, and quite right too. But we tilt tested it at Chobham and it proved very stable. There was only 10 of difference in terms of stability between the two heights."
Tractor and trailer are both shod with a set of pre-production 285/60R22.5in Conti covers—so new that when Swift had them fitted the only tread pattern available was the H545, intended primarily for a steer axle although it can be fitted all-round. A specialised drive-axle pattern is now available.
The one question operators are asking about ultra-low profile tyres is: how long will they last? That point is not lost on Miles: "The two factors that will control it are obviously plated weight and mileage. I can afford to lose some life—I anticipate them having between 10 and 15% less life than our 11R22.5s or 12R22.5 and 295/80 tyres—but we can claw it back by being able to use the same tyre on both tractor and trailer." Accidental kerbing of the lowsection-height 60 Series rubber will certainly not help tyre life: "It's potentially a problem, but it's our problem," says Miles. The rarity of the 60 Series has led Swift to carry two spares around on the trailer.
Whatever the final mileage figure, Miles remains an enthusisatic supporter of the 60 Series concept: "I'm certain that it will be the replacement for the 11R22.5 tyre in the future." So certain is he, that as soon as the tyre becomes generally available (probably next month) Miles will spec them on all new trailers.
While Swift has been able to beat the 4.2m height limit with its low-height artic it can't avoid the punitive tax being levied on 2+2 artic operators who decide to take advantage of heavier gross weights. Fortunately Swift's prototype low-height rig was built as a 38- tormer so it could be evaluated before 35- tonners became legal in January. Meanwhile Miles has boiled down the arithmetic of the more expensive 35-tonne artic to a simple equation: "A 22.5-tonne payload is sufficient for the vast majority of business over 32 tonnes. The higher tax equates to an extra £48 a week, or £10 a day. If you can get the extra 2.5 tonnes payload for £10 a day, and it's regular, you can work at it!"Right now the low-height Swift rig is taxed and running at 38 tonnes with both low and normal-height trailers. The company is keeping "a very close eye on it", but so far Miles concludes: "It's doing exactly what we want it to do." Eby Brian Weatherley