• CM guarantees publicity for any operator unfortu
18th march 1993
Page 21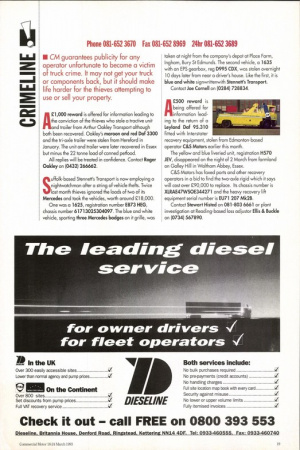 Page 21, 18th march 1993 —
• CM guarantees publicity for any operator unfortu
Close
• CM guarantees publicity for any operator unfortunate to become a victim of truck crime. It may not get your truck or components back, but it should make life harder for the thieves attempting to use or sell your property.
AC1,000 reward is offered for information leading to the conviction of the thieves who stole a tractive unit and trailer from Arthur Oakley Transport although both been recovered. Oakley's maroon and red Daf 3300 and the tri-axle trailer were stolen from Hereford in January. The unit and trailer were later recovered in Essex but minus the 22 tonne load of canned petfood.
All replies will be treated in confidence. Contact Roger Oakley on (0432) 266662.
Suffolk-based Stennett's Transport is now employing a nightwatchman after a string of vehicle thefts. Twice last month thieves ignored the loads of two of its Mercedes and took the vehicles, worth around C18,000.
One was a 1625, registration number E873 HEG, chassis number 61713025304097. The blue and white vehicle, sporting three Mercedes badges on it grille, was taken at night from the company's depot at Place Farm, Ingham, Bury St Edmunds. The second vehicle, a 1635 with an EPS gearbox, reg D995 CDX, was stolen overnight 10 days later from near a driver's house. Like the first, it is blue and white signwrittenwith Stennett's Transport.
Contact Joe Cornell on (0284) 728834.
A£500 reward is being offered for information leading to the return of a Leyland Daf 95.310 fitted with Interstater recovery equipment, stolen from Edmonton-based operator C&S Motors earlier this month.
The yellow and blue liveried unit, registration H570 JEV, disappeared on the night of 2 March from farmland on Galley Hill in Waltham Abbey, Essex.
C&S Motors has faxed ports and other recovery operators in a bid to find the two-axle rigid which it says will cost over 290,000 to replace. Its chassis number is X1RAE47WS0E344271 and the heavy recovery lift equipment serial number is EU71 207 Mk2B.
Contact Stewart Histed on 081-803 6661 or plant investigation at Reading-based loss adjustor Ellis & Buckle on (0734) 567890.