VW P010
18th march 1993
Page 18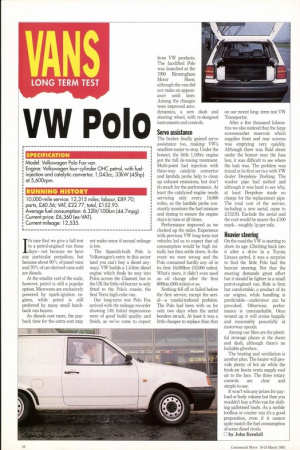 Page 18, 18th march 1993 —
VW P010
Close
SPECIFICATION Model: Volkswagen Polo Fox van.
Engine: Volkswagen four-cylinder OHC petrol, with fuelinjection and catalytic convertor, 1,043cc, 33kW (45hp) at 5,600rpm.
RUNNING HISTORY 10,000-mile service: 12,315 miles; labour, £89.70; parts, £40.56; VAT, £22.77; total, £152.93. Average fuel consumption: 6.321it/100km (44.7mpg). Current price: £6,360 (ex-VAT).
Current mileage: 12,535.
It's rare that we give a full test to a petrol-engined van these days—not because we have any particular prejudices, but because about 90% of panel vans and 70% of car-derived vans sold are diesels.
At the smaller end of the scale, however, petrol is still a popular option. Microvans are exclusively powered by spark-ignition engines, while petrol is still preferred by many small hatchback van buyers.
As diesels cost more, the payback time for the extra cost may not make sense if annual mileage is low.
The Spanish-built Polo is Volkswagen's entry in this sector (and you can't buy a diesel anyway). VW builds a 14-litre diesel engine which finds its way into Polos across the Channel, but in the UK the little oil-burner is only fitted to the Polo's cousin, the Seat Terra high-cube van.
Our long-term test Polo Fox arrived with the mileage recorder showing 149. Initial impressions were of good build quality and finish, as we've come to expect from VW products. The facelifted Polo was launched at the 1990 Birmingham Motor Show, although the van did not make an appearance until later. Among the changes were improved aerodynamics, a new dash and steering wheel, with re-designed instruments and controls.
Servo assistance The brakes finally gained servo assistance too, making VW's smallest easier to stop. Under the bonnet, the little 1,100cc engine got the full de-toxing treatment. Multi-point fuel injection with three-way catalytic convertor and lambda probe help to clean up exhaust emissions, but don't do much for the performance. At least the catalysed engine needs servicing only every 10,000 miles, as the lambda probe constantly monitors the fuel mixture and timing to ensure the engine stays in tune at all times.
Performance improved as we clocked up the miles. Experience with previous VW long-term test vehicles led us to expect that oil consumption would be high initially but then settle down. In the event we were wrong and the Polo consumed hardly any oil in its first 16,000km (10,000 miles). What's more, it didn't even need an oil change after the first 800km (500 miles) or so.
Nothing fell off or failed before the first service, except the aerial—a vandal-induced problem. The Polo had been with us for only two days when the aerial benders struck. At least it was a little cheaper to replace than that on our recent longterm test VW Transporter.
After a few thousand kilometres we also noticed that the large screenwasher reservoir which supplies front and rear screens was emptying very quickly. Although there was fluid about under the bonnet near the fuse box, it was difficult to see where the leak was. The problem was traced at its first service with VW dealer Deepdene Dorking. The washer pipe had melted and although it was hard to see why, at least Deepdene made no charge for the replacement pipe. The total cost of the service, including a new aerial, came to £152.93. Exclude the aerial and the cost would be nearer the £100 mark—roughly lp per mile.
Heavier steering On the road the VW is starting to show its age. Climbing back into it after a drive in a Toyota Liteace petrol, it was a surprise to find the little Polo had the heavier steering. Not that the steering demands great effort but it should be lighter in a small petrol-engined van. Ride is firm but comfortable, a product of its car origins, while handling is predictable—understeer can be provoked. Otherwise, performance is unremarkable. Once wound up it will cruise happily and reasonably peacefully at motorway speeds.
Among our likes are the plentiful stowage places in the doors and dash, although there's no lockable glovebox.
The heating and ventilation is another plus. The heater will provide plenty of hot air while the fresh-air fascia vents supply cool air to the face. The three rotary controls are clear and simple to use.
It won't win any prizes for payload or body volume but then you wouldn't buy a Polo van for shifting palletised loads. As a mobile toolbox or courier van it's a good proposition, even if it cannot quite match the fuel consumption of some diesel rivals.
El by John Kendall