Steel hauliers: jobs in balance
18th march 1993
Page 13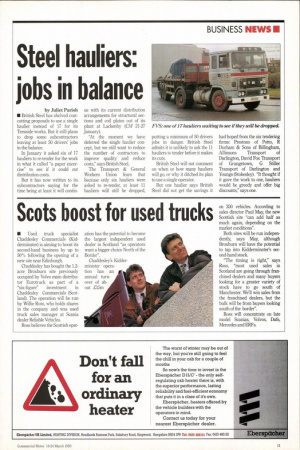 Page 13, 18th march 1993 —
Steel hauliers: jobs in balance
Close
by Juliet Parish • British Steel has shelved costcutting proposals to use a single haulier instead of 17 for its Teesside works. But it still plans to drop some subcontractors leaving at least 50 drivers' jobs in the balance.
In January it asked six of 17 hauliers to re-tender for the work in what it called "a paper excercise" to see if it could cut distribution costs.
But it has now written to its subcontractors saying for the time being at least it will continue with its current distribution arrangements for structural sections and coil plates out of its plant at Lackenby (CM 21-27 January).
"At the moment we have deferred the single haulier concept, but we still want to reduce the number of contractors to improve quality and reduce costs," says British Steel.
The Transport & General Workers Union fears that because only six hauliers were asked to re-tender, at least 11 hauliers will still be dropped, putting a minimum of 50 drivers jobs in danger. British Steel admits it is unlikely to ask the 11 hauliers to tender before it makes its cuts.
British Steel will not comment on when or how many hauliers will go, or why it ditched its plan to use a single operator.
But one haulier says British Steel did not get the savings it had hoped from the six tendering firms: Prestons of Potto, R Durham & Sons of Billingham, Allinsons Transport of Darlington, David Fox Transport of Grangetown, G Stiller Transport of Darlington and Youngs (Stokesley). "It thought if it gave the work to one, hauliers would be greedy and offer big discounts," says one.