50 Years Ago
18th March 1955
Page 116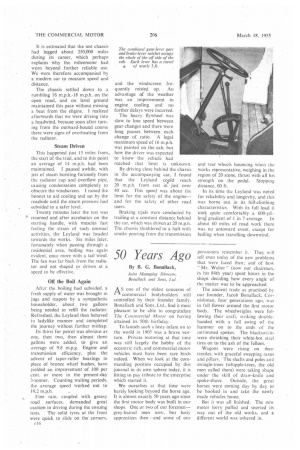 Page 116, 18th March 1955 —
50 Years Ago
Close
By B. G. Bonallack,
Joint Managing Director, Bonallack and Sons, Ltd.
As one of the oldest concerns of commercial bodybuilders still controlled by their founder family, Bonallack and Sons. Ltd., find it most pleasant to be able to congratulate The Commercial Motor on having attained its 50th birthday.
To launch such a lusty infant on to the world in 1905 was a brave venture. Private motoring at that time was still largely the hobby of the eccentric rich, and commercial motor vehicles must have been rare birds indeed. When we look at the commanding position occupied by this journal in its own sphere today, it is fitting to pay tribute to the enterprise which started it.
We ourselves at that time were barely looking beyond the horse age. It is almost exactly 50 years ago since the first motor body was built in our shops. One or two of our foremen— grey-haired men now, but lusty apprentices then —and some of our pensioners remember it. They will tell even today of the new problems that were faced then; and of how "Mr. Walter" (now our chairman, in his 84th year) spent hours in the shops deciding how every angle of the matter was to be approached.
The ancient trade as practised by our founder, Jacob Bonallack, Cornishman, four generations ago, was in full flower around the first motor body. The wheelwrights were following their craft, striking doublehanded with a full swing of the hammer on to the ends of the unrimmed spokes. The blacksiniihs were shrinking their white-hot steel tires on to the ash of the felloes.
Wagons were rising on their trestles, with graceful sweeping raves and pillars. The shafts and poles and swingle-trees (whipple-trees, the old men called them) were taking shape under the skill of draw-knife and spoke-shave. Outside, the great horses were coming day by day to be hooked in and take the newly made vehicles home, But it was all finished. The new motor lorry puffed and snorted its way out of the old works, and a different world was ushered in.