Contributions from Drivers and Mechanics.
18th February 1909
Page 22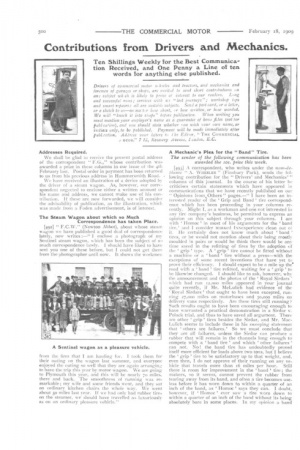 Page 23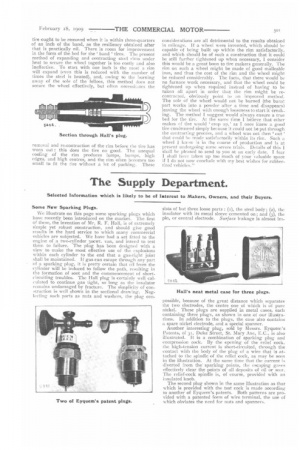 Page 22, 18th February 1909 —
Contributions from Drivers and Mechanics.
Close
Ten Shillings Weekly for the Best Communication Received, and One Penny a Line of ten words for anything else published.
Drivers of commercial motor &hides and tractors, and methanics and foremen of garaces or shots, are invited to send short contr,butions on any subject wit ch is likely to prove ot interest to our readers. Long and successful runs ; services with /17 " lost journeys" ; workshop tips and smart repairs: all are suilaVe subjects. Send a post card, or a letter,
or a sketch to us—no ma!t,r how short, how written, or how worded.
We will "knock it into shape" before publication. When writing you
must mention your employer's name as a guarantee of bona flies (not for publ.ca,ion), and •vott should stale whether 'on wish your own name, or initials only, to be published. Payment will he made immediately alter publ.cation. Address your liters to I he Etliiirr, "THE COMMERCIAL, omit." 7 1.5, Rosebery Avenue, .1 (dam. E.G.
Addresses Required.
We shall be glad to receive the present postal address of the correspondent " F.G.," whose contribution was awarded a prize in these columns in our issue of the 4th February last. Postal order in payment has been returned to us from his previous address in Hammersmith Road.
We have received an illustration of a device adopted by the driver of a steam wagon. As, however, our correspondent negected to enclose either a written account or his name and address, we cannot make use of his contribution. If these are now forwarded, we will consider the advisability of publication, as the illustration, which was made front a Foden advertisement, is of interest.
The Steam Wagon about which so Much Correspondence has taken Place. [492] " F.C.W." (Newton Abbot), about whose steam wagon we have published a good deal of correspondence lately, now writes :—" I enclose a photograph of my Sentinel steam wagon, which has been the subject of so much correspondence lately. I should have liked to have sent you one of these before, but I could not get them from the photographer until now. It shows the workmen from the firm that I am hauling for. I took them for their outing on the wagon last summer, and everyone enjoyed the outing so well that they are again arranging to have the trip this year by motor wagon. We are going to Plymouth this year, and this will be nearly 7o miles, there and back. The smoothness of running was remarkable; my wife and some friends went, and they sat on ordinary kitchen chairs the whole way. NVe went about so miles last year. If we had only had rubber tires on the steamer, we should have travelled as luxuriously as on an ordinary pleasure vehicle." A Mechanic's Plea for the " Band" Tire, The sender of the following communication has been awarded the ros. prize this week.
[493j A correspondent, who writes under the nom-dePlume " A. WHEELER " (Finsbury Park), sends the following contribution for the " Drivers' and Mechanics' " colunms of this journal. In the course of his letter he criticises certain statements which have appeared in communications that we have recently published on our " Opinions from.Others " pages.—" I have been an interested reader of the Grip and Band ' tire correspondence which has been proceeding in your columns recently. Might I, as a workman and one not interested in any tire company's business, be permitted to express an opinion on this subject through your columns. I am with ' Homoc ' in most of his arguments for the ' band tire,' and I consider winked I xNexperience clean out oi it. He certainly does not know much about band ' tires, or he would not mention about their being mostly moulded in pairs or would he think there would be any time saved in the refitting of tires by the adoption of the grip ' type. A ' grip 'tire cannot be fitted without a machine or a ' band ' tire without a press—with the exceptions of some recent inventions that have yet to prove their efficiency. I should expect to be a mile up the road with a 'band 'tire refitted, waiting for a 'grip' to be likewise changed. I should like to ask, however, why the announcement and the photos of the Royal Sirdars ' which had run 12,000 miles appeared in your journal quite recently, if Mr. McLulich had evidence of the ' Royal Sirdars ' that ought to have been excepted, running 27,000 miles on motorbuses and 30,000 miles on delivery vans respectively. Are these tires still running? Such results ought to have been encouraging enough to have warranted a practical demonstration in a Sirdar v. Polack trial, and thus to have saved all argument. There are other grip' tires besides the Sirdar, and Mr. MacLulich seems to include these in his sweeping statement that others are failures.' So we must conclude that they are all failures, unless the Sirdar can produce a rubber that will remain in the channels long enough to compete with a ' band tire ' and which ' other failures ' can not. No! the band tire has undoubtedly proved itself more efficient for loads above two torts, but I believe the ' grip' tire to be satisfactory up to that weight, and, even then, I do not approve of their running on any vehicle that travels more than 16 miles per hour. Still there is room for improvement in the ' band ' tire; the makers, so it seems, cannot prevent the rubber front tearing away from its band, and often a tire becomes useless before it has worn down to within a quarter of an inch of the band, as Homoc ' says they can. I doubt, however, if flornoc ' ever saw a tire worn down to within a quarter of an inch of the band without its being absolutely bare in some places. In my opinion a band
tire ought to be removed when it is within three-quarters of an inch of the band, as the resiliency obtained after that is practically nil. There is room for improvement in the form of the bed for the ' band ' tires. The present method of expanding and contracting steel rims under heat to secure the wheel together is too costly and also ineffective. To start with one inch is the most a rim will expand (even this is reduced with the number of times the steel is heated), and, owing to the burning away of the sole of the felloes, this method does not secure the wheel effectively, but often necessitates the removal and re-contraction of the rim before the tire has worn out : this does the tire no good. The unequal cooling of the rim produces lumps, bumps, high edges, and high centres, and the rim often becomes too small to fit the tire without a let of packing. These considerations are all detrimental to the results obtained in mileage. If a wheel were invented, which should be capable of being built up within the rim satisfactorily, and which should be of such a construction that it could be still further tightened up when necessary, I consider this would be a great boon to tire makers generally. The rim on such a wheel might be made of good malleable iron, and thus the cost of the rim and the wheel might be reduced considerably, The facts, that there would be no furnace work necessary, and that the wheel could be tightened up when required instead of having to be taken all apart in order that the rim might be recontracted, obviously point to an improved method. The sole of the wheel would not he burned (the burnt part works into a powder after a time and disappears) leaving the wheel with enough looseness to start it creaking. The method I suggest would always ensure a true bed for the tire. At the same time I believe that other makes of tire would crop up,' as I once knew a good tire condemned simply because it could not be put through the contracting process, and a wheel was not then 'out ' that could be made satisfactorily within its rim. Such a wheel I know is in the course of production and is at present undergoing some severe trials, Details of this I shall be pleaSed to send to you at an early date. I fear I shall have taken up too much of your valuable space if I do not now conclude with my best wishes for rubbertired vehicles."