Motor-borne Motor Spirit.
18th February 1909
Page 1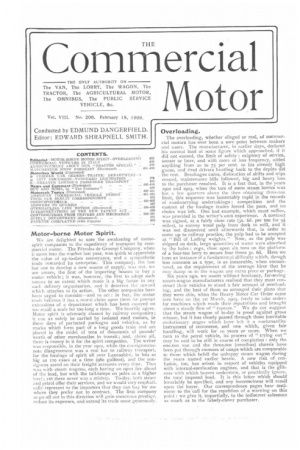 Page 1, 18th February 1909 —
Motor-borne Motor Spirit.
Close
We are delighted to note the awakening of motorspirit companies to the expediency of transport by commercial motor. The Petroles de Grosnyi Company, when it came into the market last year, was quick to appreciate the value of up-to-date conveyance, and a sympathetic trade rewarded its enterprise. This company, the last but one to develop a new source of supply, was not, we are aware, the first of the importing houses to buy a motor vehicle ; it was, however, the first to adopt such means to an extent which made it a big factor in any such delivery organisation, and it deserves the reward which attaches to its action, The other companies have been urged to consider—and to act : in fact, the motor trade believes it has a moral claim upon them for prompt extensions of a department which has been essayed on too small a scale for too long a time. We heartily agree. Motor spirit is adversely classed, by railway companies ; it can as safely be carried by isolated road motors, in these days of perfected packages and vehicles, as by trucks which form part of a long goods train and are placed in the midst of tens of thousands of pounds' worth of other merchandise in transit; and, above all, there is money in it for the spirit companies. The writer was responsible, in the year 1902, while the consignmentnote disagreement was a real bar to railway transport, for the haulage of spirit all over Lancashire, in lots as big as 120 cases at a time (960 gallons), and the consignees saved on their freight accounts every time, That was with steam wagons, each having an open tire ahead of the load, but with the tail-lamps on poles at a higher level; yet there never was a mishap. To-day, both steam and petrol offer their services, and we would very emphati_ cally represent to the importers that they can buy for use where they prefer not to contract. The first company to go all out in this direction will gain enormous prestige, reduce its expenses, and extend its trade most generously.