New Year resolution about transport examinations
18th December 1970
Page 76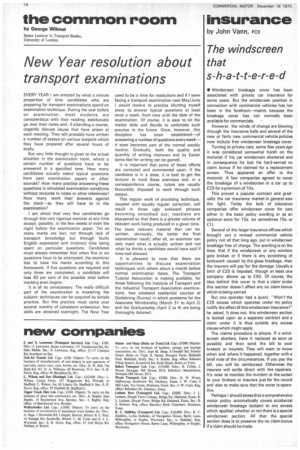 Page 76, 18th December 1970 —
New Year resolution about transport examinations
Close
EVERY YEAR I am amazed by what a minute proportion of time candidates who are preparing for transport examinations spend on examination technique. During the year before an examination, most students are conscientious with their reading, assiduously go over their notes and, if attending a course, cogently discuss issues that have arisen at each meeting. They will probably have written a number of essays on various subjects which they have prepared after several hours of study.
But very little thought is given to the actual situation in the examination room, where a certain number of questions have to be answered in a specified time. How many candidates actually select typical questions from past examination papers or other sources? How many practise answering these questions in simulated examination conditions without recourse to notes or other references? How many work their answers against the clock—as they will have to in the examination?
I am afraid that very few candidates go through this very rigorous exercise at any time except, possibly, in the few weeks or even the night before the examination paper. Yet so many marks are lost, not through lack of transport knowledge but through faulty English expression and incorrect time being spent on particular questions. Candidates must always remember that when five or six questions have to be attempted, the examiner has to base his marks according to this framework. If five questions are required and only three are completed, a candidate will lose 40 per cent of the possible total before marking even begins.
It is all so unnecessary. The really difficult part of the examination is mastering the subject; techniques can be acquired by simple practice. But this practice must come over several months of consistent endeavour; few skills are obtained overnight. The New Year used to be a time for resolutions and if I were facing a transport examination next May/June I would resolve to, practise shutting myself away to answer typical questions at least once a week, from now until the date of the examination. Of course, it is easy to let the matter slide and decide to undertake such practice in the future. Once, however, this discipline has been established—of answering a number of questions every week— it soon becomes part of the normal weekly routine, Gradually, both the quality and quantity of writing improves and by Easter some feel for writing can be gained.
It is important that some of these efforts are corrected and commented upon. If the candidate is in a class, it is best to get the lecturer to mark these exercises and, in a correspondence course, tutors are usually favourably disposed to work through such essays.
This regular work of practising technique, coupled with equally regular correction, will result in those ugly awkward phrases becoming smoothed out: reactions are sharpened so that there is a greater volume of relevant work being produced in a given time. The more relevant material that can be written, obviously, the better the final examination result; after all, an examiner can only mark what is actually written and not what he thinks a candidate would have said if time had allowed.
It is pleasant to note that there are opportunities to discuss examination techniques with others about a month before normal examination dates. The Transport Tutorial Association is making available, for those following the Institute of Transport and the Industrial Transport Association examinations, two weekend residential courses at Godalming (Surrey) in which problems for the Associate Membership (March 31 to April 2) and the Graduateship (April 2 to 4) are being thoroughly debated.