Q Contrary to what was stated in an
18th December 1970
Page 73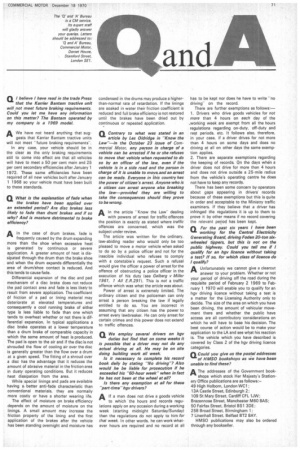 Page 73, 18th December 1970 —
Q Contrary to what was stated in an
Close
article by Les Oldridge in "Know the Law"—in the October 23 issue of Commercial Motor, any person in charge of a vehicle can be arrested if he or she refuses to move that vehicle when requested to do so by an officer of the law, even if the vehicle is in a side road and the person in charge of it is unable to move, and an arrest can be made. Everyone in this country has the power of citizen's arrest. Anyone who is a citizen can arrest anyone else breaking the law—provided they are willing to take the consequences should they prove to be wrong.
AIn the article "Know the Lawdealing
with powers of arrest for traffic offences the position is exactly as stated where traffic offences are concerned, which was the subject under review.
The article was written for the ordinary. law-abiding reader who would only be too pleased to move a motor vehicle when asked to do so by a police officer and not for the irascible individual who refuses to comply with a constable's request. Such a refusal would give the officer a power of arrest for the offence of obstructing a police officer in the execution of his duty (see Gelberg v Miller 1961, 1 All E.17.2911. This is not a traffic offence which was what the article was about.
Power of arrest is extremely limited. The ordinary citizen and the policeman can only arrest a person breaking the law if legally entitled to do so. You are incorrect in assuming that any citizen has the power to arrest every iawbreaker. He can only arrest for certain .crimes and this power does not extend to traffic offences.