has to be kept nor does he have to write "no driving on the record.
18th December 1970
Page 73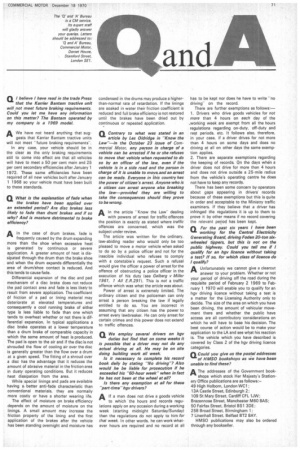 Page 73, 18th December 1970 —
has to be kept nor does he have to write "no driving on the record.
Close
There are further exemptions as follows: 1. Drivers who drive goods vehicles for not more than 4 hours on each day of the _working week are exempt from all the hours regulations regarding on-duty, off-duty and rest periods. etc. It follows also. therefore, in your case, if a driver drives for not more than 4 hours on some days and does no driving at all on other days the same exemption applies.
2. There are separate exemptions regarding the keeping of records, On the days when a driver does not drive for more than 4 hours and does not drive outside a 25-mile radius from the vehicle's operating centre he does not have to keep any records.
There has been some concern by operators about gaps appearing in drivers' records because of these exemptions but this is quite in order and acceptable to the Ministry traffic examiners. If they believe that a driver has infringed the regulations it is up to them to prove it by other means if no record covering the relevant period has been kept.
n For the past six years I have been l'a• working for the Central Electricity Generating Board, driving Foden 20-ton sixwheeled tippers, but this is not on the public highway. Could you tell me if I qualify for an hgv licence without taking a test? If so, for which class of licence do
qualify?
AUnfortunately we cannot give a clearcut
answer to your problem. Whether or not your period of driving off the road during the requisite period of February 2 1969 to February 1 1970 will enable you to qualify for an hgv driving licence without taking a test is a matter for the Licensing Authority only to decide. The size of the area on which you have been driving, the amount of vehicular movement there and whether the public have access are all contributory considerations on which he will have to base his decision. The best course of action would be to make your application to the LA and see what his reaction is. The vehicle which you have described is covered by Class 2 of the hgv driving licence categories.