DEE 'ECM
18th December 1970
Page 71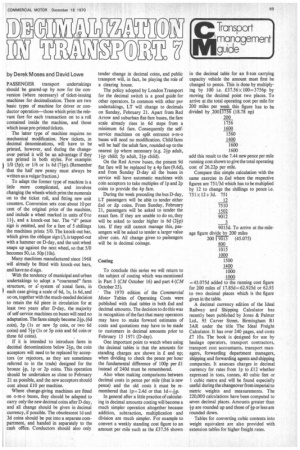 Page 71, 18th December 1970 —
DEE 'ECM
Close
Keywords :
Currency
,
Numismatics
,
Money
,
Decimalisation
,
Coins Of The United Kingdom
,
Coins
,
Luck
,
Penny
,
Five Pence
,
Shilling
,
5p
,
Two Pence
by Derek Moses and David Lowe
PASSENGER transport undertakings should be geared-up by now for the conversion (where necessary) of ticket-issuing machines for decimalization. There are two basic types of machine for driver or conductor operation—those which print the relevant fare for each transaction on to a roll contained inside the machine, and those which issue pre-printed tickets.
The latter type of machine requires no mechanical modification. New tickets, in decimal denominations, will have to be printed, however, and during the changeover period it will be an advantage if they are printed in both styles. For example: 1/0 (5p); or 1/6 or Is 6d (7+p). (Remember that the half new penny must always be written as a vulgar fraction.)
To adapt the former type of machine is a Little more complicated, and involves changing the wheels which print the numerals on to the ticket roll, and fitting new unit counters. Conversion sets cost about 10 per cent of the original price of the machine, and include a wheel marked in units of 0 to I 11, and a knock-out bar. The "d" pence sign is omitted, and for a fare of 5 shillings the machines prints 5/0. The knock-out bar, which gives the oblique sign (/), is tapped-out with a hammer on D-day, and the unit wheel snaps up against the next wheel, so that 5/0 becomes 50, i.e. 50p (10s).
Many machines manufactured since 1968 will already be fitted with knock-out bars, and have no d sign.
With the tendency of municipal and urban undertakings to adopt a "coarsened" fares structure, or a! system of zonal fares, in / each case giving a scale of 6d, Is, Is 6d, and so on, together with the much-needed decision to retain the 6d piece in circulation for at least two years after D-day, the majority of self-service machines on buses will need no adaptation. The fares simply become 2ip, (6d coin), 5p (Is or new 5p coin, or two 6d coins) and 7-ip (Is or 5p coin and 6d coin or three 6d coins).
If it is intended to introduce fares in decimal denominations below 2+p, the coin acceptors will need to be replaced by acceptors (or rejectors, as they are sometimes referred to in the trade) designed for the bronze fp, lp or 2p coins. This operation should be undertaken as close to February 21 as possible, and the new acceptors should cost about £10 per machine.
Where change-giving machines are fitted on o-m-o buses, they should be adapted to carry only the new decimal coins after D-day, and all change should be given in decimal currency, if possible. The obsolescent Id and 3d coins should be put into a separate compartment, and handed in separately to the cash office. Conductors should also only
tender change in decimal coins, and public transport will, in fact, be playing the role of a clearing house.
The policy adopted by London Transport for the decimal switch is a good guide for other operators. In common with other psv undertakings, LT will change to decimals on Sunday, February 21. Apart from Red Arrow and suburban fiat-fare buses, the fare scale already rises in 6d steps from a minimum 6d fare. Consequently the selfservice machines on split entrance o-m-o buses will need no modification. Child fares will be half the adult fare, rounded-up to the nearest fp where necessary (e.g. 2ip adult, 1+p child; 5p adult, 2+p child).
On the Red Arrow buses, the present 9d fiat fare will be replaced by a 4p fare (9.6d), and from Sunday D-day all the buses in service will have automatic machines with coin acceptors to take multiples of lp and 2p coins to provide the 4p fare.
During the week preceding the bus D-day, LT passengers will be able to tender either Lad or Lp coins. From Sunday, February 21, passengers will be asked to tender the exact fare. If they are unable to do so, they will be asked to tender higher in 6d (2+p) lots. If they still cannot manage this, passengers will be asked to tender a larger value silver coin. All change given to pthengers will be in decimal coinage.
Costing To conclude this series we will return to the subject of costing which was mentioned in Part 3 (CM October 16) and part 4 (CM October 23).
The 1970 edition of the Commercial Motor Tables of Operating Costs were published with dual tables in both Lad and decimal amounts. The decision to do this was in recognition of the fact that many operators may have tomake forward estimates of costs and quotations may have to be made to customers in decimal amounts prior to February 15 1971 (D-day).
One important point to watch when using the decimal tables is that the amounts for standing charges are shown in L and np; when dividing to check the pence per hour the fundamental difference of 100p per LI instead of 240d must be remembered.
Also when making comparisons between decimal costs in pence per mile (that is new pence) and the old costs it must be remembered that lp= 2.4d or that ld=Ap.
In general after a little practice of calculating in decimal amounts costing will become a much simpler operation altogether because addition, subtraction, multiplication and division are much simpler. For example to convert a weekly standing cost figure to an amount per mile such as the £37.56 shown = 45.075d added to the running cost figure for 200 miles of 17.85d= 62.925d or 62.93 to two decimal places which is the figure given in the table.
A decimal currency edition of the Ideal Railway and Shipping Calculator has recently been published by Jones & Palmer Ltd., 95 Carver Street, Birmingham B 1 3AR under the title The Ideal Freight Calculator. It has over 240 pages, and costs £7 10s. The book is designed for use by haulage operators. transport contractors, transport cost accountants, transport managers, forwarding department managers, shipping and forwarding agents and shipping companies. It assesses charges in decimal currency for rates from 1 p to £12 whether expressed in tons, tonnes, 40 cubic feet or 1 cubic metre and will be found especially useful during the changeover from imperial to metric weights and measurements. The 220,000 calculations have been computed to seven decimal places. Amounts greater than +p are rounded up and those of fp or less are rounded down.
Tables for converting cubic contents into weight equivalent are also provided with extension tabres for higher freight rates.