iwp ASSENGER TRANSPORT by Gordon Crabtree
18th December 1970
Page 44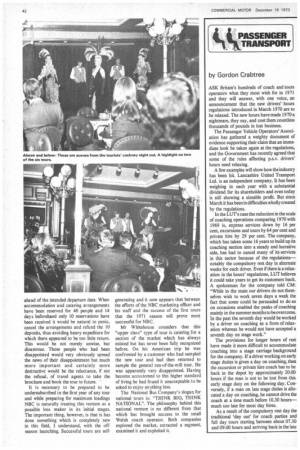 Page 44, 18th December 1970 —
iwp ASSENGER TRANSPORT by Gordon Crabtree
Close
ASK Britain's hundreds of coach and tours operators what they most wish for in 1971 and they will answer, with one voice, an announcement that the new drivers' hours regulations introduced in March 1970 are to be relaxed. The new hours have made 1970 a nightmare, they say, and cost them countless thousands of pounds in lost business.
The Passenger Vehicle Operators' Association has gathered a weighty document of evidence supporting their claim that an immediate look be taken again at the regulations, and the Government has recently agreed that some of the rules affecting p.s.v. drivers' hours need relaxing.
A few examples will show how theindustry has been hit. Lancashire United Transport Ltd. is an independent company. It has been weighing in each year with a substantial dividend for its shareholders and even today is still showing a sizeable profit. But since March it has been in difficulties wholly created by the regulations.
In the LUT's case the reduction in the scale of coaching operations comparing 1970 with 1969 is, express services down by 16 per cent, excursions and tours by 64 per cent and private hire by 29 per cent. The company, which has taken some 16 years to build up its coaching section into a steady and lucrative side, has had to cancel many of its services in this sector because of the regulations— notably the compulsory rest day in alternate weeks for each driver. Even if there is a relaxation in the hours' regulations, LUT believes it could take years to get its customers back. A spokesman for the company told CM: "While in the main our drivers do not themselves wish to work seven days a week the fact that some could be persuaded to do so on occasions enabled the peaks of coaching mainly in the summer months to be overcome. In the past the seventh day would be worked by a driver on coaching as a form of relaxation whereas he would not have accepted a seventh day on stage work."
The provisions for longer hours of rest have made it more difficult to accommodate coaching into a stage carriage background for the company. If a driver working on early stage duties is given a day on coaching, then the excursion or private hire coach has to be back in the depot by approximately 20.00 hours if the man is not to be lost from this early stage duty on the following day. Conversely, if a man on late stage duties is allocated a day on coaching, he cannot drive the coach at a time much before 10.30 hours— much too late for most day hires.
As a result of the compulsory rest day the traditional 'day out' for coach parties and full day tours starting between about 07.30 and 09.00 hours and arriving back in the late