NBC IS IMPORTING DOLLARS, FRANCS, AND MARKS
18th December 1970
Page 43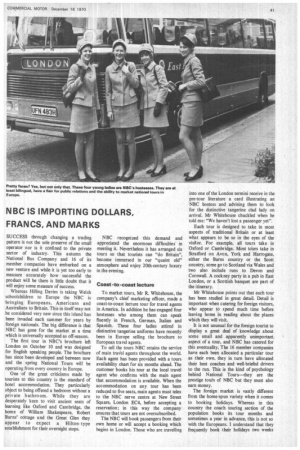 Page 44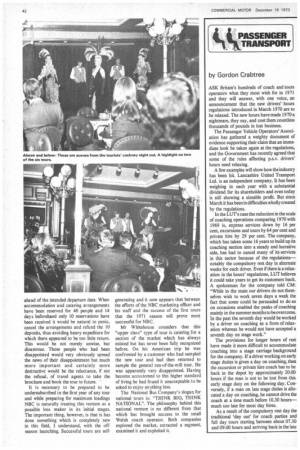 Page 43, 18th December 1970 —
NBC IS IMPORTING DOLLARS, FRANCS, AND MARKS
Close
Keywords :
National Broadcasting Company
,
Nbc Universal
,
Nbc
,
Rca
,
Rockefeller Center
,
Travel Agency
,
Pro Tour
,
National Bus Company
,
Television In The United States
,
Package Tour
,
Hospitality / Recreation
SUCCESS through changing a trading pattern is not the sole preserve of the small operator nor is it confined to the private sector of industry. This autumn the National Bus Company and 16 of its member companies have embarked on a new venture and while it is yet too early to measure accurately how successful the product will be there is little doubt that it will enjoy some measure of success.
Whereas Hilling Davies is taking Welsh schoolchildren to Europe the NBC is bringing Europeans, Americans and Australians to Britain. This in itself may not be considered very new since this island has been invaded each summer for years by foreign nationals. The big difference is that NBC has gone for the market at a time which is universally accepted as off-season.
The first tour in NBC's brochure left London on October 10 and was designed for English speaking people. The brochure has since been developed and between now and the spring National Tours will be operating from every country in Europe.
One of the great criticisms made by tourists to this country is the standard of hotel accommodation. They particularly object to being offered a bedroom without a private bathroom. While they are desperately keen to visit ancient seats of learning like Oxford and Cambridge, the home of William Shakespeare, Robert Burns' cottage and the Great Glen they appear to expect a Hilton-type establishment for their overnight stops. NBC recognized this demand and appreciated the enormous difficulties in meeting it. Nevertheless it has arranged six tours so that tourists can "do Britain", become immersed in our "quaint old" atmosphere and enjoy 20th-century luxury in the evening.
Coast-to-coast lecture
To market tours, Mr R. Whitehouse, the company's chief marketing officer, made a coast-to-coast lecture tour for travel agents in America. In addition he has engaged four hostesses who among them can speak fluently in French, German, Italian and Spanish. These four ladies attired in distinctive tangerine uniforms have recently been in Europe selling the brochure to European travel agents.
To sell the tours NBC retains the service of main travel agents throughout the world. Each agent has been provided with a tours availability chart for six months ahead. The customer books his tour at the local travel agent who confirms with the main agent that accommodation is available. When the accommodation on any tour has been reduced to five seats, main agents must telex to the NBC nerve centre at New Street Square, London EC4, before accepting a reservation; in this way the company ensures that tours are not oversubscribed.
The NBC will book passengers from their own home or will accept a booking which begins in London. Those who are travelling into one of the London termini receive in the pre-tour literature a card illustrating an NBC hostess and advising them to look for the distinctive tangerine clad lady on arrival. Mr Whitehouse chuckled when he told me: "We haven't lost a passenger yet".
Each tour is designed to take in most aspects of traditional Britain or at least what appears to be so in the eyes of the visitor. For example, all tours take in Oxford or Cambridge. Most to-urs take in Stratford on Avon, York and Harrogate, either the Burns country or the Scott country, some go to Scotland via Wales and two also include runs to Devon and Cornwall. A cockney party in a pub in East London, or a Scottish banquet are part of the itinerary.
Mr Whitehouse points out that each tour has been studied in great detail. Detail is important when catering for foreign visitors, who appear to spend much time before leaving home in reading about the places which they will visit.
It is not unusual for the foreign tourist to display a great deal of knowledge about some small and apparently unimportant aspect of a tour. and NBC has catered for this eventuality. The 16 member companies have each been allocated a particular tour as their own, they in turn have allocated their best coaches and well-briefed drivers to the run. This is the kind of psychology behind National Tours—they are the prestige tours of NBC but they must also earn money.
The foreign market is vastly different from the home-spun variety when it comes to booking holidays. Whereas in this country the coach touring section of the population books its tour months and sometimes a year in advance, this is not so with the Europeans. I understand that they frequently book their holidays two weeks ahead of the intended departure date. When accommodation and catering arrangements have been reserved for 40 people and 14 days beforehand only 10 reservations have been received it would be natural to panic, cancel the arrangements and refund the 10 deposits, thus avoiding heavy ex pediture for which there appeared to be too little return. This would be not merely unwise, but disastrous. Those people who had been disappointed would very obviously spread the news of their disappointment but much more important and certainly more destructive would be the reluctance, if not the refusal, of travel agents to take the brochure and book the tour in future. •
It is necessary to be prepared to be undersubscribed in the first year of any tour and while preparing for maximum loadings NBC is naturally treating this venture as a possible loss maker in its initial stages. The important thing, however, is that is has done something which is completely new in this field, I understand, with the offseason launching. Successful tours are self
generating and it now appears that between the efforts of the NBC marketing officer and his staff and the success of the first tours that the 1971 season will prove most successful for NBC.
Mr Whitehouse considers that this "upper class" type of tour is catering for a section of the market which has always existed but has never been fully recognized before. On his American trip he was confronted by a customer who had sampled the new tour and had then returned to sample the general run-of-the-mill tour. He was apparently very disappointed. Having become accustomed to this higher standard of living he had found it unacceptable to be asked to enjoy anything less.
The National Bus Company's slogan for national tours is: "THINK BIG, THINK NATIONAL". The philosophy behind this national venture is no different from that which has brought success to the small Welsh coach operator. Both companies explored the market, extracted a segment, examined it and exploited it.