George Hughes
18th December 1970
Page 39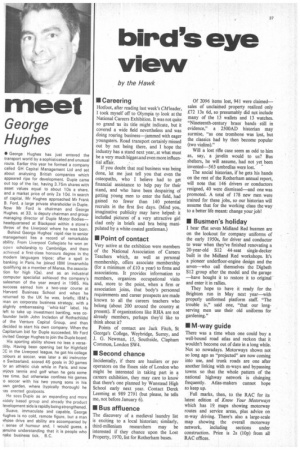 Page 39, 18th December 1970 —
George Hughes
Close
• George Hughes has just entered the transport world by a sophisticated and unusual route. Earlier this year he formed a company called GH Capital Management Ltd and set about analysing British companies which appeared ripe for development. Duple came Out top of the list. having 3.75m shares with asset values equal to about 10s a share. and a market price of only 2s 10d. In search of capital, Mr Hughes approached Mr Frank B. Ford. a large private shareholder in Duple. Now Mr Ford is chairman and George Hughes, at 33, is deputy chairman and group managing director of Duple Motor Bodies— headquartered at Blackpool within a stone's throw of the Liverpool where he was born.
Behind George Hughes' rapid rise to senior management lies a record of remarkable ability. From Liverpool Collegiate he won an open scholarship to Cambridge, and there achieved a first-class honours degree in the modern languages tripos: after a spell in banking in Paris, he joined IBM (meanwhile qualifying as a member of Mensa, the association for high IQs), and as an industrial computer specialist achieved the company's salesman of the year award in 1965. His success earned him a two-year course at Harvard Business School and when he returned to the UK he was, briefly, IBM's man on corporate business strategy, with a slightly embarrassing "whiz-kid" label. He left to take up investment banking, was cofounder (with John Incledon of Rothschilds) of the Venture Capital Group, and then decided to start his own company. When the Capitarium bid for Duple succeeded, Mr Ford invited George Hughes to join the Duple board.
His sporting ability shows no less a versa:ility. Having been opening bat for Highfield X in the Liverpool league, he got his college :olours at soccer, was later a ski instructor n Switzerland, scored 45 goals in 30 games or an athletic club while in Paris, and now mjoys tennis and golf when he gets some -ree time, but otherwise confines his games .o soccer with his two young sons in his )wn garden, where (typically thorough) he as erected goalposts.
He sees Duple as an expanding and more videly based group and already the product levelopment side is rapidly being strengthened. Suave, immaculate and capable, George iughes is no cold, remote figure. but a man vhose drive and ability are accompanied by i sense of humour and. I would guess, a jenuine understanding that it is people who flake business tick. B.C.