bird's eye view
18th December 1970
Page 39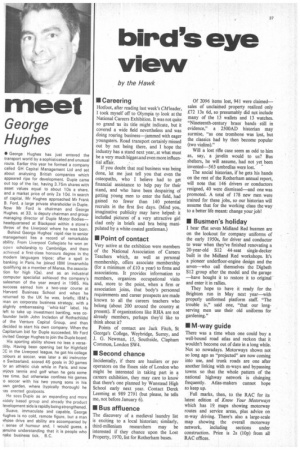 Page 39, 18th December 1970 —
bird's eye view
Close
by the Hawk
Hotfoot, after reading last week's CM leader, I took myself off to Olympia to look at the National Careers Exhibition. It was not quite so grand as its title might indicate, but it covered a wide field nevertheless and was doing roaring business—jammed with eager youngsters. Road transport certainly missed out by not being there, and I hope the industry has a stand next year, at what must be a very much bigger.and even more influen tial affair.
If you doubt that real business was being done, let me just tell you that even the osteopaths, who I believe had to get financial assistance to help pay for their stand, and who have been despairing of getting young men to enter the field, had gained no fewer than 140 potential recruits in the first fwe days. (Mind you, imaginative publicity may have helped: it included pictures' of a very attractive girl clad only in briefs and bra being manipulated by a white-coated gentleman.)
• Point of contact Very active at the exhibition were members of the National Association of Careers Teachers which, as well as personal membership, offers associate membership (for a minimum of 110 a year) to firms and associations. It provides information to members, organizes occupational visits and, more to the point, when a firm or association joins, that body's personnel requirements and career prospects are made known to all the careers teachers who belong (about 200 around the country at present). If organizations like RHA are not already members, perhaps they'd like to think about it?
Points of contact are Jack Fitch, St George's College, Weybridge, Surrey, and J. G. Newman, 15, Southside, Clapham Common, London SW4.
• Second chance Incidentally, if there are hauliers or psv operators on the Essex side of London who might be interested in taking part in a careers exhibition, they may care to know that there's one planned by Wanstead High School early next year. Contact Derek Leeming at 989 2791 (but please, he tells me, not before January 6).
• Bus affluence
The discovery of a medieval laundry list is exciting to a local historian; similarly, third-millenium researchers may be interested if they chance upon the Lost Property, 1970, list for Rotherham buses. Of 2096 items lost, 941 were claimed— sales of unclaimed property realized only £72 13s 6d, so presumably did not include many of the 13 wallets and 13 watches. "Nineteenth-century brass bands still in evidence," a 2500AD historian may surmise, "as one trombone was lost, but the classics had by then become popular (two violins)."
Will a lost rifle case seem as odd to him as, say, a javelin would to us? Bus shelters, he will assume, had not yet been invented-563 umbrellas were lost.'
The social historian, if he gets his hands on the rest of the Rotherham annual report, will note that 146 drivers or conductors resigned, 40 were dismissed—and one was promoted. A total of 178 new men were trained for these jobs, so our historian will assume that for the working class the way to a better life meant: change your job!
• Busmen's holiday
I hear fflat seven Midland Red busmen are on the lookout for company uniforms of the early 1950s, for driver and conductor to wear when they've finished renovating a 20-year-old S12 44-seat single-decker built in the Midland Red workshops. It's a pioneer underfloor-engine design and the seven—who call themselves the Digbeth S12 group after the model and the garage —have bought it to restore it to original and enter it in rallies.
They hope to have it ready for the Brighton run in May next year—with properly uniformed platform staff. "The trouble is," said one, "that our longserving men use their old uniforms for gardening."
• M-way guide There was a time when one could buy a well-bound road atlas and reckon that it wouldn't become out of date in a long while. Not so nowadays. Motorways shown not so long ago as -projected" are now coming into use, and trunk roads are one after another linking with m-ways and bypassing towns so that the whole pattern of the national highway network is changing frequently. Atlas-makers cannot hope to keep up.
Full marks, then, to the RAC for its latest edition of Know Your Motorways which has 19 maps showing motorway routes and service areas, plus advice on m-way driving. There's also a large-scale map showing the overall motorway network, including sections under construction. Price is 2s (10p) from all RAC offices.