J. J. Johnson succeeds A. G. Jones at Guy
18th December 1970
Page 32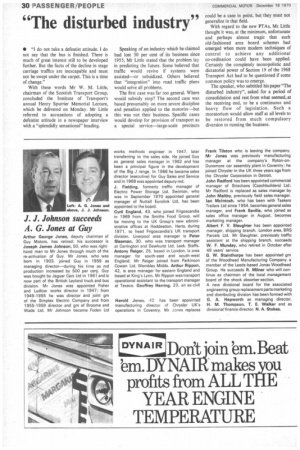 Page 32, 18th December 1970 —
J. J. Johnson succeeds A. G. Jones at Guy
Close
Arthur George Jones, deputy chairman of Guy Motors, has retired; his successor is Joseph James Johnson, 50, who was righthand man to Mr Jones through much of the re-activation of Guy. Mr Jones. who was born in 1903, joined Guy in 1959 as managing director—during his time as md production increased by 500 per cent. Guy was bought by Jaguar Cars Ltd in 1961 and is now part of the British Leyland truck and bus division, Mr Jones was appointed Fisher and Ludlow works director in 1947; from 1949-1955 he was director and joint gm of the Simplex Electric Company and from 1955-1959 director and gm of Broome and Wade Ltd. Mr Johnson became Foden Ltd works methods engineer in 1947. later transferring to the sales side. He joined Guy as general sales manager in 1962 and has been a principal figure in the development of the Big J range. In 1966 he became sales director lexecutivel for Guy Sales and Service and in 1968 was appointed deputy mcf.
J. Fielding, formerly traffic manager of Electric Power Storage Ltd, Swinton, who was in September 1970 appointed general manager of Nuttall Eurolink Ltd, has been appointed to the board.
Cyril England, 43, who joined Frigoscandia in 1969 from the Smiths Food Group. will be moving to the UK Group's new administrative offices at Hoddesdon, Herts. during 1971, to head Frigoscandia's UK transport division. Liverpool area manager is Peter Sleeman, 30. who was transport manager at Carrington and Dewhurst Ltd. Leek, Staffs. Antony Reiger, 25, based in London, is area manager for south-east and south-west England. Mr Reiger joined from Parkinson Cowan Ltd, Wembley Middx. Arthur Rippon, 42, is area manager for eastern England and based at King's Lynn. Mr Rippon was transport operational assistant to the transport manager at Texaco. Geoffrey Herring, 23. an ex-civil Harold Jones. 42 has been appointed manufacturing director of Chrysler UK's operations in Coventry. Mr Jones replaces
Frank Tilston who is leaving the company. Mr Jones was previously manufacturing manager at the company's Ryton-onDunsmore car assembly plant in Coventry; he joined Chrysler in the UK three years ago from the Chrysler Corporation in Detroit.
John Radford has been appointed commercial manager of Strachans (Coachbuilders) Ltd; Mr Radford is replaced as sales manager by John Maltby, previously field sales manager. an McIntosh, who has been with Taskers Trailers Ltd since 1954, becomes general sales manager. and Frank Saville, who joined as sales office manager in August. becomes marketing manager.
Albert F. V. Slaughter has been appointed manager, shipping branch. London area, BRS Parcels Ltd. Mr Slaughter, previously traffic assistant at the shipping branch, succeeds W. F. Munday, who retired in October after 46 years' service.
G. W. Stainthorpe has been appointed gm of the Woodhead Manufacturing Company. a member of the Leeds-based Jonas Woodhead Group. He succeeds R. Milner who will continue as chairman of the local management board of the shock absorber section.
A new divisional board for the associated engineering group replacement parts marketing and distributing division has been formed with
G. A. Hepworth as managing director,
H. M. Thompson, T. E. Walker and as divisional finance director. N. A. Stokes.
Tags
People
:
Frank Saville
,
Arthur Rippon
,
Peter Sleeman
,
R. Milner
,
Frank Tilston
,
Arthur George Jones
,
W. F. Munday
,
Antony Reiger
,
John Radford
,
J. J. Johnson
,
Harold Jones
,
Geoffrey Herring
,
J. Fielding
,
Joseph James Johnson
,
John Maltby
,
G. W. Stainthorpe
,
Albert F. V. Slaughter
,
H. M. Thompson