Lords urge rural services review
18th December 1970
Page 30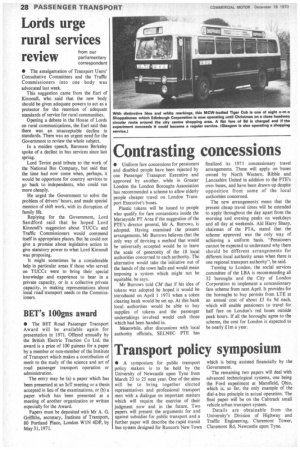 Page 30, 18th December 1970 —
Lords urge rural services review
Close
• The amalgamation of Transport Users' Consultative Committees and the Traffic Commissioners into one body was advocated last week.
This suggestion came from the Earl of Kinnoull, who said that the new body should be given adequate powers to act as a protector for the retention of adequate standards of service for rural communities.
Opening a debate in the House of Lords on rural communications, the Earl said that there was an unacceptable decline in standards. There was an urgent need for the Government to review the whole subject.
In a maiden speech, Baroness Berkeley spoke of a decline in bus services since last spring.
Lord Teviot paid tribute to the work of the National Bus Company, but said that the time had now come when, perhaps, it would be opportune for country services to go back to independents, who could run more cheaply.
He urged the Government to solve the problem of drivers' hours, and made special mention of shift work, with its disruption of family life.
Replying for the Government, Lord Sandford said that he hoped Lord Kinnoull's suggestion about TUCCs and Traffic Commissioners would commend itself in appropriate places. But he could not give a promise about legislative action to give statutory power to what Lord Kinnoull was proposing.
It might sometimes be a considerable help in particular areas if those who served on TUCCs were to bring their special knowledge and experience to bear in a private capacity, or in a collective private capacity, in making representations about local road transport needs to the Commissioners.