Contrasting concessions
18th December 1970
Page 30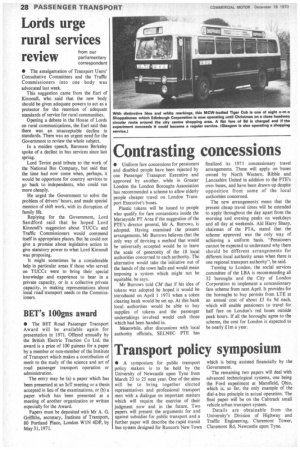 Page 30, 18th December 1970 —
Contrasting concessions
Close
• Uniform fare concessions for pensioners and disabled people have been rejected by one Passenger Transport Executive and approved by another. while in Greater London the London Boroughs Association has recommended a scheme to allow elderly people cheaper travel on London Trans port Executive's buses.
Plastic tokens will be issued to people who qualify for fare concessions inside the Merseyside PT Area if the suggestion of the PTE's director general, Mr A. Burrows, is adopted. Having examined the present arrangements. Mr Burrows believes that the only way of devising a method that would be universally accepted would be to leave the scale of generosity of the 18 local authorities concerned to each authority. The alternative would take the initiative out of the hands of the town halls and would mean imposing a system which might not be equitable, he says.
Mr Burrows told CM that if his idea of tokens was adopted he hoped it would be introduced on April 1 1971 when a token clearing bank would be set up. At this bank local authorities would be able to buy supplies of tokens and the passenger undertakings involved would cash those which had been handed in.
Meanwhile, after discussions with local authority officials, SELNEC PTE has finalized its 1971 concessionary travel arrangements. These will apply on buses owned by North Western, Ribble and Lancashire United in addition to the PTE's own buses, and have been drawn-tip despite opposition from some of the local authorities concerned.
The new arrangements mean that the present cheap travel times will be extended to apply throughout the day apart from the morning and evening peaks on weekdays and all day at weekends. Ald Harry Sharp. chairman of the PTA. stated that the scheme approved was the only way of achieving a uniform basis. -Pensioners cannot be expected to understand why there should be different arrangements for different local authority areas when there is one regional transport authority", he said.
Turning to London, the social services committee of the LBA is recommending all 32 boroughs and the City of London Corporation to implement a concessionary fare scheme from next April. It provides for the boroughs to buy permits from LTE at an annual cost of about £3 6s 9d each, which will enable pensioners to travel for half fare on London's red buses outside peak hours. If all the boroughs agree to the scheme, the cost for London is expected to be nearly a year.