New training centre for Bradford
18th December 1970
Page 26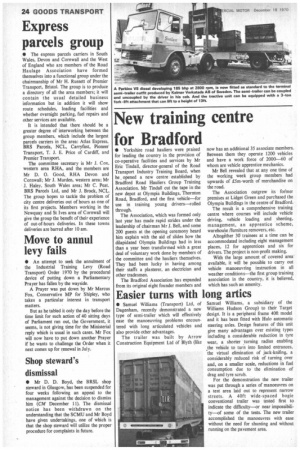 Page 26, 18th December 1970 —
New training centre for Bradford
Close
• Yorkshire road hauliers were praised for leading the country in the provision of co-operative facilities and services by Mr Eric Tindall, director-general of the Road Transport Industry Training Board, when he. opened a new centre established by Bradford Road Hauliers Group Training Association. Mr Tindall cut the tape in the new depot at Olympia Buildings, Thornton Road, Bradford, and the first vehicle—for use in training young drivers—rolled through.
The Association, which was formed only last year has made rapid strides under the leadership of chairman Mr J. Bell, and some 200 guests at the opening ceremony heard him explain with the aid of slides how the dilapidated Olympia Buildings had in less than a year been transformed with a great deal of voluntary work done by members of the committee and the hauliers themselves. They had been lucky in having among their staffs a plasterer, an electrician and other tradesmen.
The Bradford Association has expanded from its original eight founder members and now has an additional 35 associate members. Between them they operate 1200 vehicles and have a work force of 2000-60 of whom are vehicle apprentice mechanics.
Mr Bell revealed that at any one time of the working week group members had upwards of £5m-worth of merchandise on the road.
The Association outgrew its foimer premises at Lidget Green and purchased the Olympia Buildings in the centre of Bradford.
The result is a comprehensive training centre where courses will include vehicle driving, vehicle loading and sheeting, management, an apprentice scheme, warehouk /furniture removers, etc.
Altogether 30 trainees at a time can be accommodated including eight management places, 12 for apprentices and six for drivers. The project is non-profit making.
With the large amount of covered area available, it will be possible to carry out vehicle manoeuvring instruction in all weather conditions—the first group training association in the country, it is believed, which has such an amenity.