Tougher stance is needed on Driver CPC trainers flouting rules
18th August 2011
Page 8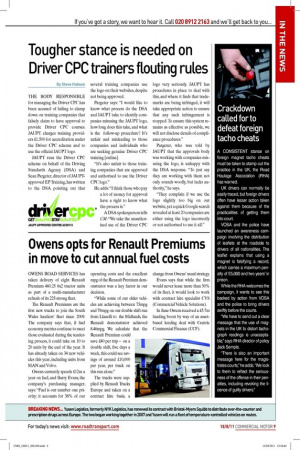 Page 8, 18th August 2011 —
Tougher stance is needed on Driver CPC trainers flouting rules
Close
By Steve Hobson
THE BODY RESPONSIBLE for managing the Driver CPC has been accused of failing to clamp down on training companies that falsely claim to have approval to provide Driver CPC courses. JAUPT charges training providers £1,500 for accreditation under the Driver CPC scheme and to use the oficial JAUPT logo.
JAUPT runs the Driver CPC scheme on behalf of the Driving Standards Agency (DSA) and Sean Pargeter, director of JAUPTapproved EP Training, has written to the DSA pointing out that several training companies use the logo on their websites, despite not being approved.
Pargeter says: "I would like to know what process do the DSA and JAUPT take to identify companies misusing the JAUPT logo, how long does this take, and what is the follow-up procedure? It's unfair and misleading to those companies and individuals who are seeking genuine Driver CPC training [online].
"It's also unfair to those training companies that are approved and authorised to use the Driver CPC logo." He adds: "I think those who pay a lot of money for approval have a right to know what the process is."
A DSA spokesperson tells CM: "We take the unauthorised use of the Driver CPC
logo very seriously. JAUPT has procedures in place to deal with this, and where it inds that trademarks are being infringed, it will take appropriate action to ensure that any such infringement is stopped. To ensure this system remains as effective as possible, we will not disclose details of compliance procedures." Pargeter, who was told by JAUPT that the approvals body was working with companies misusing the logo, is unhappy with the DSA response. "To just say they are working with them not only sounds woolly, but lacks authority," he says.
"They complain if we use the logo slightly too big on our website, yet a quick Google search revealed at least 20 companies are either using the logo incorrectly or not authorised to use it all."