Crackdown called for to defeat foreign tacho cheats
18th August 2011
Page 8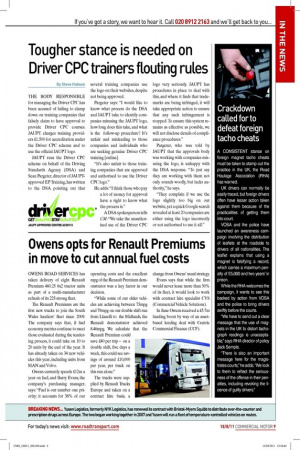 Page 8, 18th August 2011 —
Crackdown called for to defeat foreign tacho cheats
Close
A CONSISTENT stance on foreign magnet tacho cheats must be taken to stamp out the practice in the UK, the Road Haulage Association (RHA) has warned.
UK drivers can normally be easily traced, but foreign drivers often have lesser action taken against them because of the practicalities of getting them into court.
VOSA and the police have launched an awareness campaign involving the distribution of leaflets at the roadside to drivers of all nationalities. The leaflet explains that using a magnet is falsifying a record, which carries a maximum penalty of £5,000 and two years' in prison.
While the RHA welcomes the campaign, it wants to see this backed by action from VOSA and the police to bring drivers swiftly before the courts.
"We have to send out a clear message that the use of magnets in the UK to distort tachograph readings is unacceptable,' says RHA director of policy Jack Semple.
"There is also an important message here for the magistrates courts,' he adds. "We look to them to reflect the seriousness of the offence in their penalties, including revoking the licence of guilty drivers.'