Mixed response as M1 lights switch-off gets under way
18th August 2011
Page 7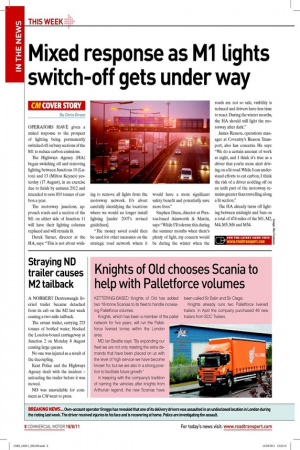 Page 7, 18th August 2011 —
Mixed response as M1 lights switch-off gets under way
Close
Keywords :
Counties Of England
,
Geography Of England
,
Subdivisions Of England
,
Transport In Birmingham, England
,
Transport In Buckinghamshire
,
Highways Agency
,
M1 Motorway
,
Motorways In The Republic Of Ireland
,
Motorway
,
Environment
By Chris Druce OPERATORS HAVE given a mixed response to the prospect of lighting being permanently switched off on busy sections of the M1 to reduce carbon emissions.
The Highways Agency (HA) began switching off and removing lighting between Junctions 10 (Luton) and 13 (Milton Keynes) yesterday (17 August), in an exercise due to inish by autumn 2012 and intended to save 810 tonnes of carbon a year.
The motorway junctions, approach roads and a section of the M1 on either side of Junction 11 will have their lighting columns replaced and will remain lit.
Derek Turner, director at the HA, says: "This is not about wish
ing to remove all lights from the motorway network. It's about carefully identifying the locations where we would no longer install lighting [under 2007's revised guidelines].
"The money saved could then be used for other measures on the strategic road network where it would have a more signiicant safety beneit and potentially save more lives." Stephen Dunn, director at Preston-based Ainsworth & Martin, says: "While I'll tolerate this during the summer months when there's plenty of light, my concern would be during the winter when the roads are not so safe, visibility is reduced and drivers have less time to react. During the winter months, the HA should still light the motorway after dark." James Reason, operations manager at Coventry's Reason Transport, also has concerns. He says: "We do a certain amount of work at night, and I think it's true as a driver that you're more alert driving on a lit road. While I can understand efforts to cut carbon, I think the risk of a driver nodding off on an unlit part of the motorway remains greater than travelling along a lit section." The HA already turns off lighting between midnight and 5am on a total of 47.4 miles of the M1, M2, M4, M5, M6 and M54.